The "introducing:" series is where we showcase underrated teams & gyms that do something unique, have crazy skills, or anything else that we think needs more attention! Want to read some of our other interviews? Click here to see all we have published so far!
---
Ever since 2011, the Small Coed level 6 division has been dominated by two teams – The California Allstars Smoed and Brandon Allstars Senior Black.
Since then, only two other teams have won The Cheerleading Worlds in that division besides Smoed and Senior Black. The first was in 2019, when Prodigy Allstars Midnight took home the gold, and the second in 2022 when Senior Starz from Macs Allstar Cheer won!
We talked to one of the team coaches, Jalyn, who helped lead Senior Starz to their very first World Championship win.
Learn everything about their victory in 2022, Allstar cheerleading in Utah, and what they have planned for the new season. For their upcoming 11th season in the Small Coed division, they are more ready than ever!
---
About Macs Cheer
Macs Cheer is located in Draper, Utah – just about 20 minutes south of Salt Lake City. The gym was founded in 1998, by Mack Hirshberg and has a secondary location in Farmington, Utah, as well.
The Draper location has a total of 14 full-year elite teams this season:
Mini Starz (mini 1)
Galaxy (junior 1)
White Diamondz (senior 1)
Moonlight (youth 2)
Midnight (junior 2)
Dusk (senior 2)
Twilight (youth 3)
Sunz (junior 3)
Shadow (senior coed 4.2)
Wicked (u18 coed 4)
Junior Starz (junior5)
Code x (xs coed 6)
Legacy (IOLC 6)
Senior Starz (small coed 6)
The Farmington location has 5 elite teams this season:
Gucci (junior 3)
Vogue (senior 3)
Celebrity (senior 4.2)
Royalz (senior 4)
Louis V (junior coed 5)
Confused about the "U18" division? Learn more about it here: IASF Announces Changes To Worlds 2021 & New Division Names
A long list of accomplishments
The first big win for the gym came in 2013 and was a Bronze medal at The Cheerleading Worlds. It was in the Small Coed division, and the team who took home the medal? You guessed it – Senior Starz.
A long list of achievements has followed over the years!
"Since then we've had our Junior 5 win Cheersport the last 2 seasons (2021 & 2022), our junior 2 Midnight win Cheersport in 2022, along with Wicked – our coed level 4 team.
At the 2022 Summit, Wicked won the first-ever summit title for the gym in the U17 coed level 4 division.
And of course, Senior Starz winning the first-ever Worlds title for Macs this past year."
"We knew going in that if we did our job we had a pretty good shot at globing. Honestly, winning was never on our radar."
---
---
What does a season typically look like for Macs Cheer?
"In a normal season, our gym competes about 5-6 times locally and 2-3 times nationally, attending all year-end events (The peak, The Summit & The Cheerleading Worlds).
This year we are taking our whole program to "The [American] Grand" in Las Vegas early this December."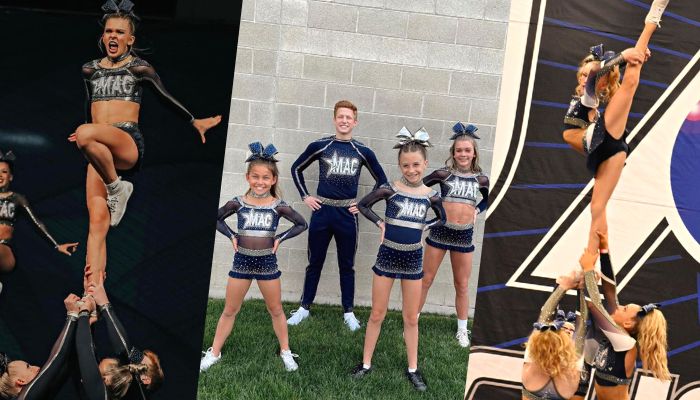 "All of Draper's Summit and Worlds eligible teams will attend Cheersport nationals in Atlanta, and Draper's levels 4-6 teams will attend NCA Nationals as well. The Farmington location will take their level 4-6 teams to USA nationals in Anaheim."
A look into cheerleading in Utah
"Cheerleading in Utah has become extremely exciting, a lot bigger, and more competitive over the last few years.
I think with Utah's recent achievements in cheerleading people do respect it [the sport]. These kids are hard-working athletes.
Utah has 3 different programs with Summit wins over the last 2 years, along with a few Cheersport and NCA wins.
And now, an addition of 3 Worlds globes! Senior Starz has taken home two (bronze & gold), and then Steel6 from Raglan Coast Cheer with their 2022 silver.
We have some super competitive High School teams here in Utah too. Bingham and Corner Canyon are nationally ranked teams at their year-end events."
We know the world is going to be watching us. They are excited to see what we are gonna do, we've never really had that before.
The road to winning the 2022 Cheerleading Worlds
"Worlds 2022 was INSANE. An emotional rollercoaster to say the least.
We knew going in that if we did our job we had a pretty good shot at globing. Honestly, winning was never on our radar."
Taking on the Small Coed giants
"We had been competing against Brandon [Brandon Allstars – Senior Black] at every big event we went to and they always had a pretty decent point lead on us.
They are an incredible and very consistent team, but competing against a team like that truly does make you better.
After NCA we worked harder than we ever have. We spent countless hours on the technique and the small stuff, anything we could do to close that point gap."
At The Cheerleading Worlds
"After day 1 scores came out and we saw how small that point gap was we were IN SHOCK. We honestly couldn't believe it.
We went into day 2 with such ease, and honestly such a calm feeling.
On the last warm-up mat after we finished our routine we all danced around and sang "Living on a Prayer" together. The kids were just having fun. We knew that all we could do was our job, and nothing else was in our control.
Leaving worlds 2022 with a solid HIT was all we could have asked for."
"The win was incredible, no doubt. There are still no words to accurately describe it.
As a coach I saw every single ounce of hard work, every minute of dedication – all the blood, sweat, and tears become worth it. It's a moment I'll never forget.
SENIOR STARZ WON WORLDS IN THE SMALL COED DIVISION. Insane."
"Y'all remember awards getting evacuated because the fire alarm went off…. haha. OH, MAN."
New season, new routine, new goals – and a new type of pressure
"This new upcoming season is super exciting. We get to attend The Majors which is a dream come true in itself.
We know the world is going to be watching us. They are excited to see what we are gonna do, we've never really had that before.
My goal as a coach is to keep the kids hardworking and humble. I want them to work harder than ever before.
Nothing is harder than staying at the top once you get there, and that's ultimately what we want to do.
We are working hard on the new routine and it is JAM-packed with more skills than ever before. We can't wait for the world to see it!"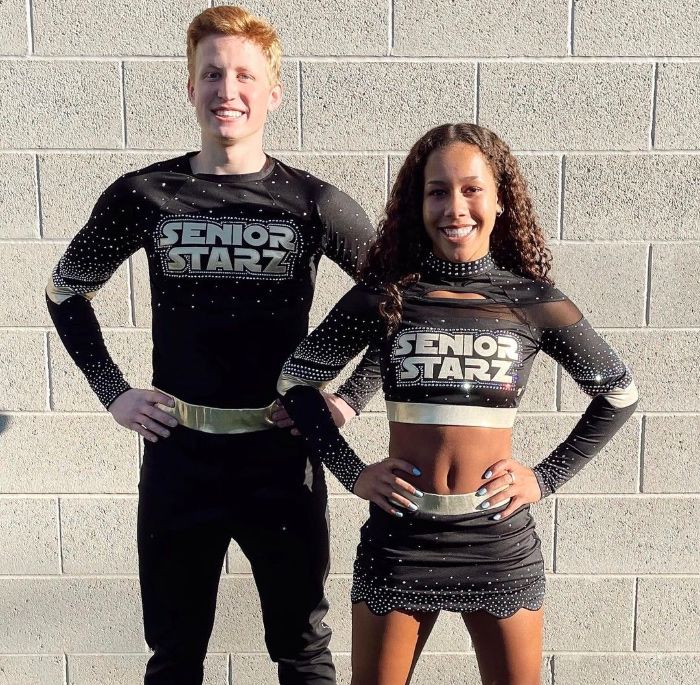 "We are repping a new all-black Senior Starz custom uniform that is to die for, and we have an incredible music mix for this season we think the whole world is gonna go crazy over.
As a gym, we are excited to get out there and start competing. We are in some new divisions we are super excited about.
Hopefully, you'll be hearing a lot more about Macs Cheer this season, our teams are stronger than ever all around."
---
Follow the team & gym
Twitter: @macs_cheer / @senior_starz
Instagram: @macs_cheer / @macs_draper / @macs_north / @macs.srstarz
Don't forget to check out some of our other interviews, with both incredible teams, gyms, athletes and coaches. Click here to see all our previous interviews!