The "introducing:" series is where we showcase underrated teams & gyms that do something unique, have crazy skills, or anything else that we think needs more attention! Want to read some of our other interviews? Click here to see all we have published so far!
---
If you haven't heard of Paris Cheer yet, you've missed some incredible cheerleading.
Not only did they make headlines in 2020 after being featured in a Versace (yes, THAT fashion brand) campaign. They also won France's first-ever Worlds medal at the 2021 virtual IASF Worlds – after just 3 practices!
As you can tell, this is a gym to remember. Learn all about them in this interview!
About the gym
Paris Cheer is the only cheerleading gym in Paris. It was founded in 2014 by Brittany Gordon, Suhaib Al Ali and Elise de Kermel.
All three of the founding members, as well as the entire staff/coaching staff are unpaid volunteers, and run this club entirely out of passion and love of the sport.
For example, both Brittany and Suhaib are full time lawyers and Elise works for the Paris 2024 Olympics!
"We started with one Level 3 team and one Level 1 team. 7 years later we have six competitive teams from Level 1 to Level 6, a kids program, and two recreational teams.
We won our first bid to Worlds in 2017, and we've won one every year since then.
We have, since 2019, two teams competing at Worlds and one more team who's going to compete at The Summit for the very first time in 2022.
Our Large Coed team, Legacy, is currently Champions of Varsity's European Championship, winner of France's first ever Nations' Cup at Worlds in 2019, and most importantly, winner of France's first ever Globe with its 2021 Silver World Championship.
This progression and those achievements are the reflection of our gym letters, HWHWF, standing for "Hard Work, Hard Work, Family."
What is cheerleading like in France?
"Cheerleading in France is very different than in the United States.
The sport has only really been around in France for 15 or so years. It's a young sport that we try to grow every year.
There's now about 100 clubs of all different shapes and sizes all around the country. A large portion of them are simply sideline cheer teams to club football teams.
So far, the image of cheerleading in France is mostly the image people get from popular movies or TV shows, so sideline high school or college cheerleading. They usually think cheerleading is inappropriate dancing with poms so we have a lot of education to do regarding this aspect.
The TV Show "CHEER" on Netflix about Navarro really helped us to give the right idea of what cheer is, especially competitive cheerleading."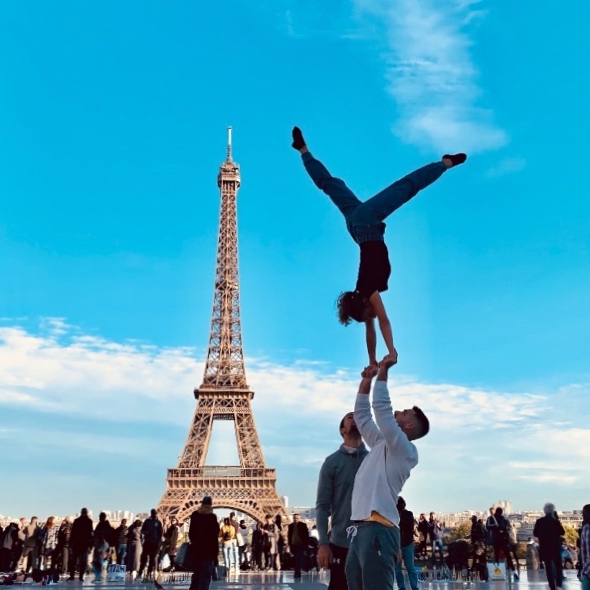 "Our gym has always been a competitive cheer gym only. However, like all the gyms in this country, we don't have our own gym. We are granted gym time from the city – and there is extremely limited availability in Paris.
That's why we only have weekend team training, and we train only about 6 hours per weekend for our top teams.
Also, our calendar is quite different than in the US, specially as we compete in the international division at Worlds.
Our season starts in September with tryouts. October is dedicated to getting the skills we want to put in our routine. Then we have choreography made in November and starting from December we are working on our routine.
Up until very recently, our first competition of the season was Worlds.
We have managed to add a warm-up competition this year. We compete at Worlds in April, then in May and June, we have our European competitions where we get our bid for the next season's Worlds.
During summer, our gym is closed. Our only option is to train outdoors in Paris public parks."
"It allows our athletes to train together no matter the team they were on or the level, so everyone gets better through summer. It also allows athletes from lower level gyms to come and spend some time learning and training with our athletes.
And finally, it offers visibility to our sport. We usually have a lot of people just walking by who stay for a moment to watch us and take pictures, as cheerleading isn't very common in France."
"The pandemic stole a lot of time"
"The pandemic has made it impossible for us to train or compete for almost 2 entire seasons.
As soon as the weather and the country allowed us to do so, we trained outside in parks with masks. Luckily, the pandemic didn't affect our staff or our gym on an economic aspect as they are all volunteers and we use public spaces to train.
The pandemic has been long and hard to handle, but it also made people who came back in our gym even more determined to recover the lost time, and to return quickly to their level.
The pandemic stole a lot of time from us, and a lot of athletes, but it did not break our spirit."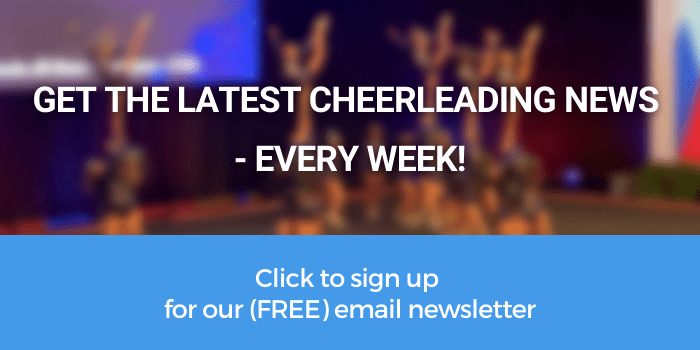 THE Versace photoshoot
"As the only cheer gym in Paris, we tend to get lots of media opportunities.
We have noticed that brands are more and more interested in our kind of performances, which is great because we use it as fundraising for athletes and teams.
Versace contacted us with a very simple brief: For their "V for Versace" campaign, they wanted to recreate the V shape in multiple ways. Cheerleading would be one of the ways in their main digital campaign for this collection.
So, we gathered a bunch of athletes in a park, and we practiced all the ways we could think of to make the V shape – stunting, jumping, baskets etc.
We sent all the pictures and video to the Versace team and they booked us for an entire day.
Everyone was so excited about that day, but it was also a bit stressful because we had no idea how good or bad the result could be.
The photoshoot happened in a beautiful garden just outside of Paris. We had an entire team of make-up artists, hairdressers and stylists just for us – we felt like absolute stars!!"
"We took pictures and videos in different places, and the photographers and directors were very open to discuss what the possibilities were.
It was a real collaborative effort, especially as they didn't really know cheerleading.
It was a very fun day for us, and it feels like this is why the results came out that good – because we were just having so much fun doing the sport we love, showing our athletes' talent and wearing a pretty special uniform!
We ended up keeping shoes and tops, but above all, amazing pictures and lifetime memories!"
Winning silver at the virtual 2021 IASF Worlds – after 3 practices!
"Filming for Worlds 21 was a crazy, exciting, and rewarding experience. Crazy because of the time frame that we had to do it.
Our athletes come from all over the country, and given that we don't have our own gym, the only times that we are granted from the city to train are on the weekends. Also, the city's gyms are all closed in August.
So we had 3 weekends in September to practice the routine and get it ready for filming.
We had practices out in the grass that got rained out. We had to put towels down on the floor to mark lines.
We reworked and changed placements, the pyramid, tumbling, the main stunt, the partner stunt and even the dance all the way until filming day.
We only had one practice in the gym that we were filming for. The circumstances were just crazy.
It was exciting because it had been so long since we were able to compete. Our last competition was in June 2019."
"The way the season is here in Europe, you get your Worlds bids in the summer for the following year's worlds. Our competitions start around March, right when the pandemic hit. We were shut down 2 weeks before our first competition.
So this was our first competition in over 2 years, and we couldn't have been more excited about it.
It was rewarding to be able to send off some of our most dedicated and veteran athletes with a bang. The pandemic did a lot to affect people's lives, and we lost many athletes because of it.
It was a blessing to be able to give them one more chance to wear the uniform, and to shine on the mat before saying goodbye to the sport."
What does the future look like for Paris Cheer?
"Our end goal is to have our own space. One that isn't controlled by the city, that can open during national strikes, or stays open during the summer holidays (ours closes for 2 full months).
It's going to take some time, but we think we are starting to have the critical mass of athletes needed to be able to do it."
---
Follow the gym
Get an inside look into the gym and European cheerleading by following them on Instagram!
You can find them on @paris.cheer.