TheCheerBuzz is a media company providing cheerleading content across multiple different platforms.
We believe cheerleading has enough gatekeeping and secrecy...
That's why all of our content is FREE to access and explained in words you actually understand!
You won't see us using overly complicated words and not explaining details, just because it "makes us look smart"…  
TheCheerBuzz
The go-to website and platforms for fun, engaging and educating cheerleading content

LowerLevelsCheer
The top Instagram account all about level 1-4 cheerleading skills, teams and content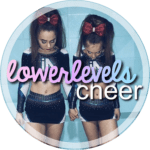 Want to hear more from us?
Sign up for our weekly newsletter and get the latest cheerleading industry news to your inbox!