Lots of decisions are being made right now in the cheerleading industry and it can be hard to keep up with everything that's happening. We know that events are canceled and the season is practically over, but questions about what will happen next season remain.
Some major changes have already been made to The Summit (read about them here) and more organizations are starting to release information about the 2020-2021 season.
The IASF (International All Star Federation), in charge of the international divisions at All-star Worlds, released their adjustments for next season yesterday.
---
Full announcement: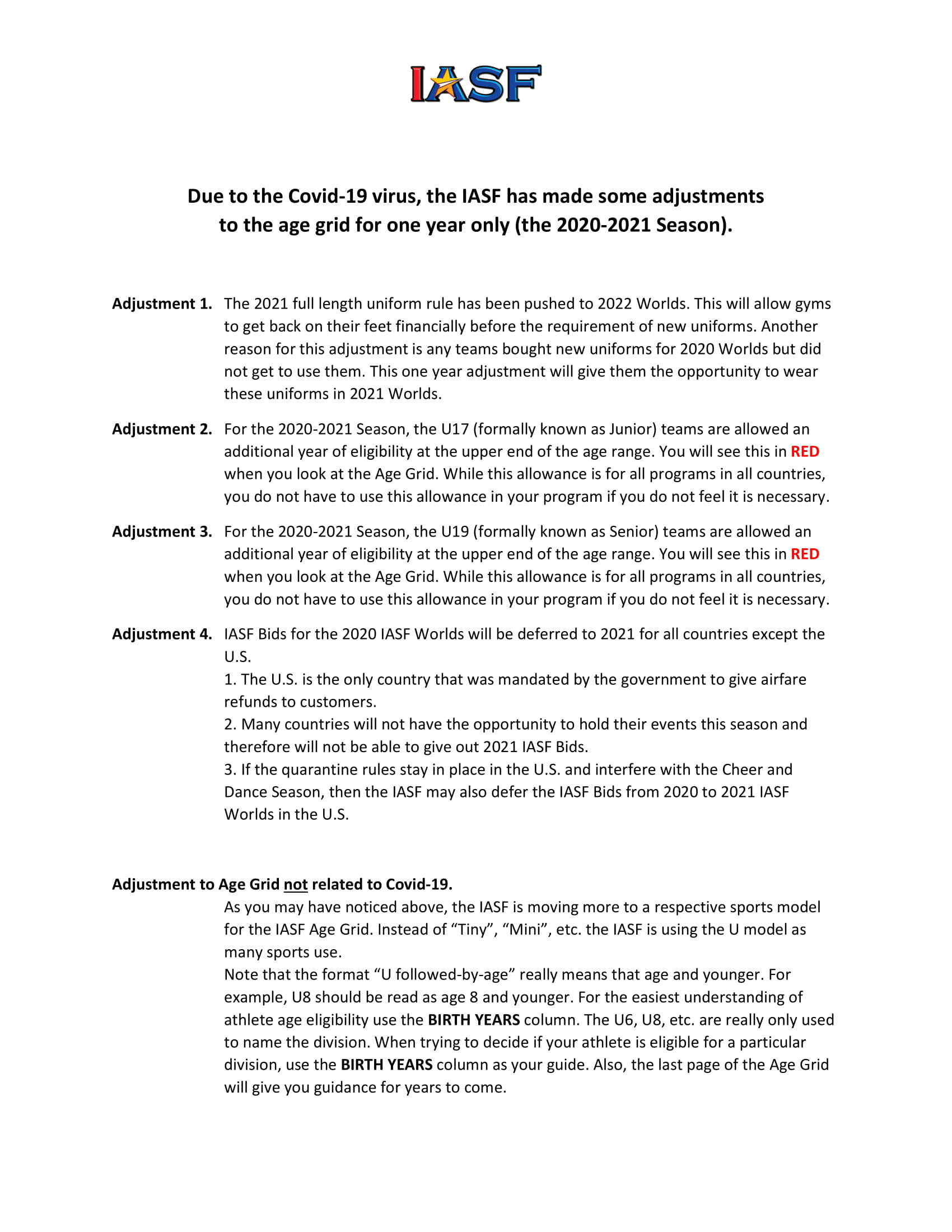 What does this mean?
To make this easier to understand and more clear, let's go through each of the adjustments.
First of all, adjustments 1-4 are only for the 2020-2021 season. They are made due to the current situation of the world and will not be permanent.
Adjustment 1:
The organization has previously announced a new rule, saying all international teams must wear full-length uniform tops starting from the 2020-2021 season. However, due to the fact that there was no end of the season events this year, they will let teams compete with cropped uniform tops at Worlds in 2021.
This will allow teams who bought new uniforms for Worlds this year to use them next year, and for gyms to recover financially before having to buy new, full-length uniforms.
Adjustment 2&3:
Since athletes who have aged out never got to end their final year, they will be given an extra year of eligibility!
For example, divisions were athletes have to be 18 years or younger, seniors on the team who will turn 19 can still compete next season.
Adjustment 4:
All international teams who earned bids to Worlds 2020 will be keeping their bids for Worlds 2021, except for U.S teams. The explanation is that many countries around the world won't be able to hold their events this year that would've given out bids to the 2021 World Championship.
If the 2020-2021 season in the United States is affected by the pandemic, U.S teams could also get to keep their bids from this season.
Permanent adjustments to the age grid
At the end of the statement, there is an explanation of the new division names. This was planned on changing anyways and has nothing to do with the unexpected ending of this season.
If you're interested in other sports, you probably recognize the "U-followed-by-age" names of the age grids. IASF announced that they will be switching to this model instead of the current age grid names (mini, youth, junior, senior, etc.).
The new official age grids will be released early next week, but we now know that the names will follow the style of "U8", "U12", "U16" and so on.
---
What do you think about the adjustments?
Will aged-out athletes take other athletes' places on teams? Should teams be allowed to keep their bids? What do you think of the full-top uniform rule? How about the new "U" division names?
We'd love to hear your opinions! Share them in the comments below or vote in the poll, like with the new Summit changes:
Cover photo from Snapped! by Becca Clark. You can read our interview with Becca here.