Dropping a shoe in a routine is hardly something unique and you've probably seen it happen many times, but someone picking up the shoe while tumbling?
Probably not…
Spotlight (a level 4.2 team from Cheer Extreme Allstars) competed this past weekend and went pretty viral after the video of their routine was posted. One of the flyers' shoes said "nope, not today", flew up in the air, and landed on the mat.
Here's what one of her bases said:
"It was so funny in the first stunt, right before the one and half-up, Emma was like 'omg my shoe is coming off' and when we came down I tried to put it back on for her and I was like 'just keep going, if it falls off it falls off haha!'"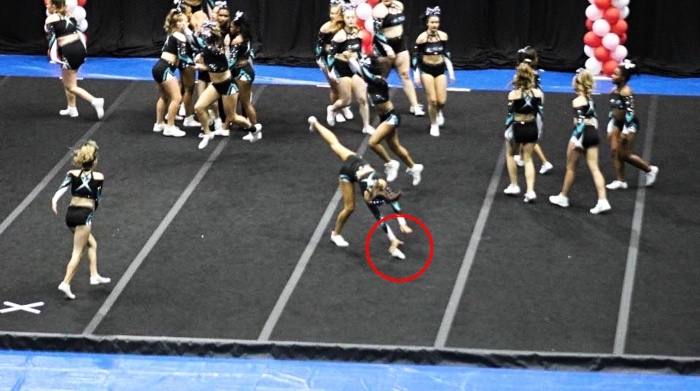 The shoe was left on the mat as the team moved onto the jump section, followed by the running tumbling. You would think that someone might move it before or after their tumbling pass, but one of the tumblers actually grabbed it while tumbling!
"Before my running tumbling pass I saw the shoe and I didn't want my teammates to trip over it and mess up so I basically just grabbed the shoe and tumbled with it in my hand and threw it off stage."
Watch the whole situation here:
It might not look that crazy, but the more you think about it, the crazier it gets.
Imagine timing the roundoff so perfectly that you land exactly where you need to grab it, then doing a roundoff back handspring while holding a shoe?!
With currently more than 100 000 views of the video, it's safe to say that this was the most talked-about thing of the weekend.
Not only did Spotlight come home with this funny story, but they also took home first place in their division and the second-highest score of the whole competition!