Looking for a fun way to stay active, make friends, develop skills, and learn important life lessons? All-star cheerleading could be your answer!
In this post, we'll explore 6 examples of reasons why you should consider joining an all-star cheer team.
1. Connection & Belonging
Meet New People and Make Friends
One of the best things about all-star cheerleading is the opportunity to meet tons of new people and form lasting friendships.
When joining a team, you automatically meet new people, all of whom you have something in common with; cheerleading!
This gives you a great starting point for getting to know people and making new friends
Many make lifelong friends through cheerleading, and the bonds you create with your teammates are truly special, which we will get into next:
Form Strong Team Bonds
Being part of a cheer team gives you a strong sense of belonging and purpose.
You work together, support each other, and celebrate your successes as a team. The fellowship and connection you feel with your teammates can be incredibly rewarding.
Sure, every team has good and not-so-good times, and you may not become close friends with everyone. But with great coaching, your team will build strong bonds, making it feel like a second family.
2. A Place & Team for Everyone
No High "Barrier to Entry"
Starting a new sport can feel intimidating, especially if you think you need specific skills or equipment…
The great news is that cheerleading doesn't have a high "barrier to entry." In other words, you don't need anything specific to get started.
It may feel like you need to know all the words, have basic skills and cheerleading knowledge, but you don't. You will learn along the way!
Cheerleading is open to everyone, and there are plenty of opportunities for people of all skill levels, for example:
No Age Limits – Cheer is for All Ages!
Cheerleading isn't just for kids or young adults… Contrary to popular belief, you can start cheerleading at any age.
What about the age limits, you may ask? Many divisions don't even have an upper age limit, so you can keep cheering for as long as you want! Learn more here:
It's a sport that truly welcomes individuals of all ages, and it's never too late to join.
Teams Welcome All Skill Levels
If you're worried about your skill level, don't be!
Cheer gyms typically have teams at different levels, including teams for complete beginners. So no matter where you're starting, there's most likely a team for you.
3. Be part of a Global Community
Friendship Goes Beyond Your Team
Cheerleading is not just about your own team; it's a worldwide community.
The friendships you make in cheerleading can extend beyond your team. You can meet and get to know cheerleaders from different gyms, teams, and even different countries.
Being a cheerleader also means you're part of something bigger than yourself.
Cheerleaders from all around the world support and encourage each other. It's a big global community that shares the same love for the sport.
Engage and Support Each Other
Cheer competitions are not just about competing yourself. Part of the experience is cheering for and supporting each other, creating a supportive and positive atmosphere.
You'll experience the joy of not only your team's success but also the success of others.
---
Don't miss out on the latest news, events & happenings in cheerleading. Subscribe to our (free) weekly newsletter now for all the updates you need:
---
4. Exercise While Having Fun
Cheerleading offers the perfect combination of regular exercise and fun. It's an excellent way to keep your body moving and healthy.
You'll learn a wide range of skills, from jumps, tumbling, and stunts to dances and choreography.
This variety of skills keeps things exciting, and there's always something new to learn or practice.
When you're cheering, you're working on your endurance, strength, flexibility, balance, and more – often all at once. It's a full-body workout that keeps you in great shape without feeling like a normal, boring workout.
The best part is that cheerleading is so fun that you might forget you're even exercising. You'll often be having too much fun or focusing on what you're doing to think about that you're working out!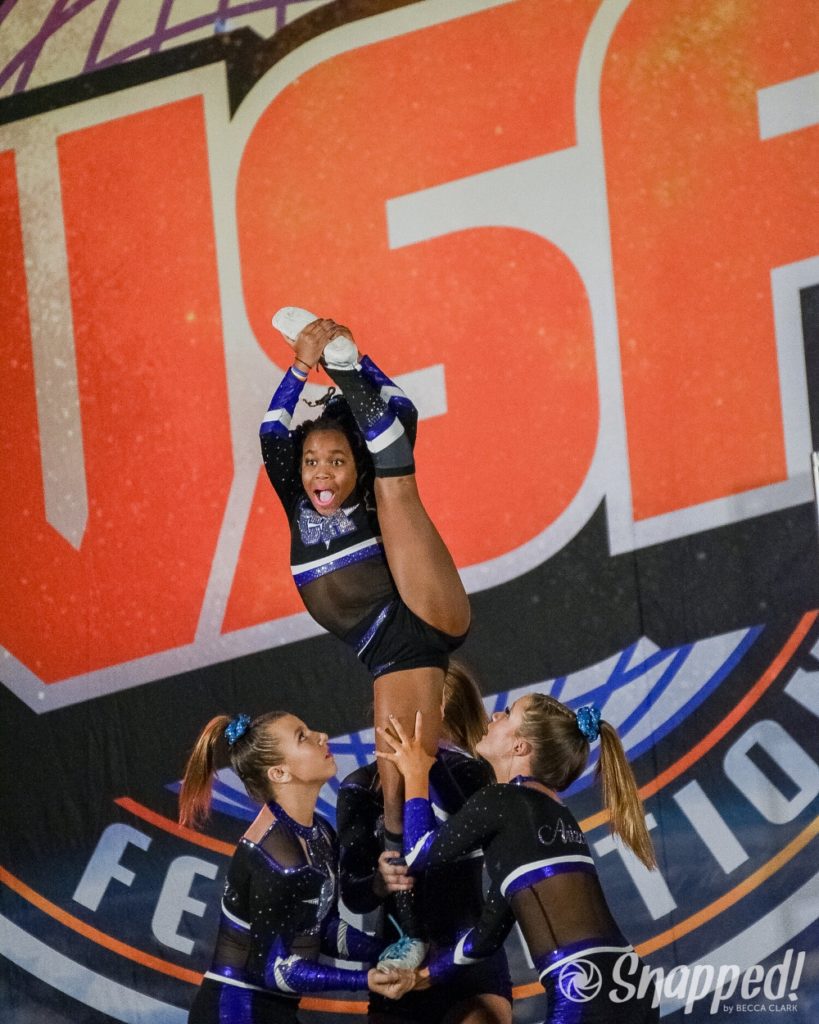 5. Grow as a Person & Develop Personal Skills
Cheerleading isn't just about the physical aspect; it's also about personal growth.
You'll learn valuable life lessons and skills that will benefit you for a lifetime. Some examples are:
Develop Sportsmanship: In cheerleading, you'll understand the importance of being a good sport whether you win or lose a competition. It's about celebrating your wins with humility, supporting your competitors no matter what the outcome is, and learning to lose.
Be Coachable and Open to Learning: Cheer coaches are there to help you improve and reach your potential. Being open to their feedback, help, and guidance is a valuable skill that can be applied in many areas of life.
Embrace Teamwork: Cheerleading is all about teamwork. You'll become an expert at working together with others, which is a skill that's highly valued in both sports and daily life.
Hard Work and Discipline: Achieving your cheer goals takes hard work and discipline. These are skills you'll carry with you in life, helping you succeed in any endeavor.
Confidence and Mental Strength: Cheerleading boosts your confidence and teaches you how to stay mentally strong, even when faced with challenges.
Step Out of Your Comfort Zone: Joining new teams, performing, and trying new skills will push you out of your comfort zone, helping you grow as a person and gain confidence in facing the unknown.
6. Create Lifelong Memories
No matter if it's a practice, competition, or just spending time with your team, cheerleading will give you some of the best memories.
Whether it's a personal achievement, a funny moment, or an emotional team triumph, you'll have countless experiences and memories to look back on!
Next steps
In conclusion, all-star cheerleading offers a world of opportunities for fun, friendship, personal growth, and fitness. With a welcoming community, a place for everyone, and a chance to create lasting memories, it's no wonder that so many people find joy in the sport.
Thinking of joining the sport? Here are some other resources to help you learn more about it:
Cover photo from Snapped by Becca Clark.