Do you dream of performing impressive stunts, wowing a crowd, and being part of an energetic, close-knit team? All Star Cheerleading might be just the sport for you!
It's an exciting, popular, and demanding sport that offers countless benefits. But before you leap into those sparkly uniforms, there are some important things you might want to consider.
Let's break them down:
1. Time Commitment
All Star cheerleading isn't just a weekend hobby; it's typically a year-round commitment*. The season is often very long, with little time off in between. As soon as one season ends, the next one begins!
Practices are typically held multiple times each week, and missing too many can lead to being removed from the team.
So, if you're considering joining, be ready to say goodbye to the idea of skipping practice whenever you don't feel like it – showing up is a must!
Balancing cheer, school, work, and life can be challenging. Time management skills are essential, so be prepared to juggle your schedule effectively.
*Tip: Many cheerleading gyms offer half-year teams that typically require less time and money. This might be a good choice if you're interested in competitive all-star cheer but aren't ready to commit to a full-year team just yet.
2. Skill-Oriented
All Star cheerleading is highly skill-oriented, and you'll need learn a variety of skills.
This includes tumbling*, stunting, choreography, jumps, dance, and other skills like being coachable and a good athlete.
*Don't worry if tumbling isn't your thing, there are non-tumbling teams available! Check out our article on non-tumbling teams for more information: Everything You Need to Know About Non-Tumbling Cheerleading Teams
3. Team Sport
Teamwork is the core of all star cheer!
You'll need to work closely with your teammates, developing trust and working together.
If you're more focused on individual glory, this might not be your ideal sport. Success in all star cheerleading really is a team effort.
Looking for more guidance? Here are 6 reasons you should join the sport:
4. Competitions & Traveling
The sport is very competitive, and competitions are a significant part of the experience. While having fun should be the primary goal, competition can bring a lot of pressure and nerves.
Competition schedules tend to vary a lot depending on your team or gym. Some may only compete a few times per season, while others may compete every month, or even more frequently.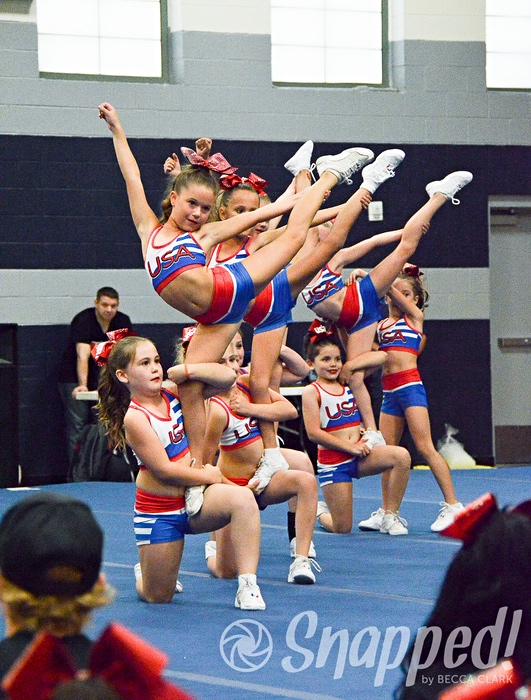 Competitions often span full days or even full weekends, so be prepared to dedicate a lot of weekends to cheerleading. And don't forget about traveling to and from events – it's often time-consuming and can be costly.
While some competitions may be local to your area, you might need to travel across the country, or even overseas, to compete!
---
📩 Stay in the loop!
Don't miss out on the latest news, events, and happenings in the world of cheerleading. Subscribe to our (free) weekly newsletter now for all the updates you need:
---
5. Financial Considerations
Let's face it: cheerleading isn't cheap… There are various expenses to take into account, including:
Tryout fees
Competition fees
Travel expenses for competitions
Uniforms and practice wear
Private lessons for improving skills
Choreography & camps
And more
The total cost can vary significantly depending on your location, the gym you choose, and other factors.
Some gyms may offer scholarships or fundraising opportunities, so be sure to research your options.
As mentioned earlier, numerous gyms also provide options like half-year teams and other alternatives for those seeking more budget-friendly choices.
6. Selective Process
Joining an all star cheerleading team often involves attending a tryout, where your skills are assessed and judged.
Teams have a limited number of available spots, and coaches aim to create the strongest teams possible based on various factors, including individual skills, team needs, and team dynamics.
But don't get discouraged!
This selectiveness can also be seen as an opportunity for personal growth. It motivates you to improve and become the best version of yourself.
Have you decided to try out? How fun! For more beginner tips on tryouts, check out this article:
7. Physical and Mental Demands
All Star cheerleading puts significant demands on both your physical and mental well-being.
Be prepared for a lot of conditioning and strength training, as well as stretching and improving your flexibility. Like any other sport, cheerleading also carries a risk of injuries.
The mental part of the sport is just as important.
Handling the pressure of competitions and performances can be challenging. The desire to perform at your best while executing complex routines can lead to nervousness and anxiety.
Learning how to manage these emotions and perform under pressure is a crucial skill. Don't worry if you're not already confident with these mental skills – you'll learn with time and excellent coaching.
Being mentally strong extends beyond the competition part as well. It involves maintaining focus during long, intense practices and staying motivated throughout the season.
Additionally, maintaining a positive attitude and supporting your teammates even when things get tough is essential!
Conclusion
Joining an all star cheer team can be a fantastic experience that leads to lasting friendships, personal growth, and unforgettable moments. But before making a decision, it might help to evaluate whether all star cheerleading aligns with your goals, values, and lifestyle.
It's a sport that requires a lot of time, dedication, teamwork, and most often financial commitment. It can also be physically and mentally challenging.
But if you're excited, ready to work hard, and love being part of a team, all star cheerleading could be just right for you!
If you want to learn more about cheerleading basics, click here to check out our other helpful guides and info.