Are you wondering what NCA Nationals is? Maybe who won last year? Which divisions and levels are offered at the event? No matter what you're wondering, we've got the answers!
The NCA All-Star Nationals is the biggest cheerleading competition in the world. Thousands of teams compete every year for the national champion title and it is one of the most prestigious competitions. NCA offers divisions for level 1-7 teams from all over the world, both for coed and all-girl teams. Apart from the champion title, teams also compete for bids to The Cheerleading Worlds, The Summit, The D2 Summit, and more.
The competition is held by Varsity every year in late February/early March and takes place in Dallas, Texas.
---
Fun fact: Did you know that there is (or was) an NCA "curse"?
Yes – the so-called "large senior curse" had to do with NCA & The Cheerleading Worlds… Find out more about it here: What Is The New Large Senior Curse?
What are the NCA divisions?
As mentioned above, the NCA Nationals is the biggest cheerleading competition in the world. Teams are not required to have a bid to compete, so the competition is open to anyone.
That means there are many divisions to keep track of!
There are simply too many divisions to list in this article. To see the most up-to-date division list, we recommend the official competition website.
What do the winners get?
Teams who win NCA are titled National Champions and get a few different awards – including a trophy, banner, and the famous NCA jackets: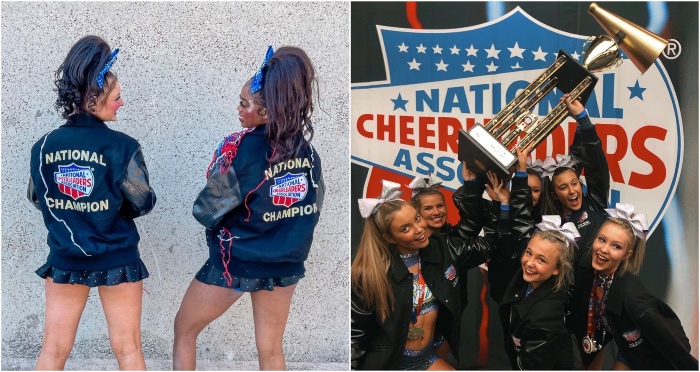 Some teams also order custom champion rings, with their logo, team name, and any other customizations they want.
Past competition results – who won NCA?
To see results from past NCA Nationals competitions, we recommend the official event website. Find it by clicking here!
Future NCA dates
Here are the current future dates for the NCA All-Star Nationals:
---
More cheerleading competition guides
Learn about some other major allstar cheerleading competitions!
Disclaimer: this is not official information from Varsity or the National Cheerleaders Association. Visit their websites for official information from the organizations.