Do you find yourself wondering about The Cheerleading Worlds? What it is, how it works, or who gets to compete? We have all the answers!
The Cheerleading Worlds, or just "Worlds", is the main and final competition of the season for level 5-7 cheerleading teams. Only teams who earned bids throughout the season are invited to compete, creating an exclusive and highly competitive event. Both U.S.-based and international divisions are offered and it is therefore known as the World Championship for Allstar cheer teams.
The competition is held every year in late April and takes place at the ESPN Wide World of Sports complex in Orlando, Florida. The event is typically spread out over three days, with a preliminary competition round, semi-finals, and finals.
Worlds is organized by the U.S. All-Star Federation (USASF) and the International All-star Federation (IASF).
The Cheerleading Worlds history
The first-ever Cheerleading Worlds was held in 2004 and had only two divisions, with a total of 14 teams. Since then, the competition has grown to offer 21 different divisions – bringing thousands of athletes and coaches to the competition every year.
International divisions were added in 2006, making those divisions a true World Championship.
QUIZ! Test your Worlds history knowledge: How Well Do You Actually Know Worlds History?
Who gets to compete at Worlds?
Like mentioned before, only teams who have earned bids get to compete at Worlds. Teams can receive bids at many cheerleading competitions throughout the season, in many different locations. At these competitions, bids are typically given out to some of the winning and highest-scoring teams.
The Cheerleading Worlds is even more exclusive, as only teams in senior age divisions are able to compete. Youth and Junior teams are not allowed to compete and have other main end-of-the-season competitions.
The Worlds divisions and levels (as of the 2020-2021 season) are listed below.
USASF divisions:
The following divisions are open to U.S. teams only.
Senior Extra Small 6
Senior Small 6
Senior Medium 6
Senior Large 6
Senior Extra Small Coed 6
Senior Small Coed 6
Senior Medium Coed 6
Senior Large Coed 6
Senior Open 6
Senior Open Small Coed 6
Senior Open Large Coed 6
IASF (U.S & international) divisions:
The following divisions are open to both U.S. and international teams (except for divisions with a * mark).
International Open 5 *
International Open 5 Small Coed *
International Open 5 Large Coed *
International Open 6
International Open 6 Small Coed
International Open 6 Large Coed
International Open 7
International Open 7 Small Coed
International Open 7 Large Coed
International Open 6 Non-Tumbling
International Open 6 Non-Tumbling Coed
International Open 7 Non-Tumbling *
International Open 7 Non-Tumbling Coed *
International Global Club 6
International Global Club 6 Coed
* U.S. teams not allowed, only international teams.
The winners' title & prizes
Teams who win Worlds are titled World Champions. However, there are some discussions about whether the U.S only division winners can be called World Champions or not. Many suggest all Worlds divisions should be open for international teams.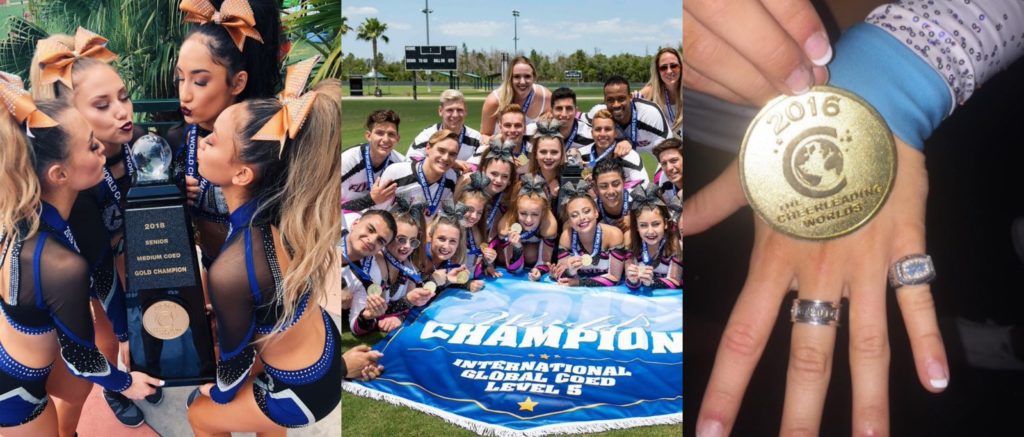 The top 3 teams at Worlds get medals in bronze, silver or gold, plus a large banner and trophy. Winning teams typically get "Worlds rings", which are silver rings with the World Champion title.
Some teams also get custom champion rings, with their logo, team name, and any other customizations they want. These rings are not included and are something the teams order on their own.
Past competition results
To see results from past Worlds competitions, we recommend this list on CheerTheory.com
Future Worlds dates
Here are the current future dates for The Cheerleading Worlds:
April 23–25, 2022
April 22–24, 2023
April 27-29, 2024
April 26-28, 2025
April 25-27, 2026
April 24-26, 2027
April 22-24, 2028
April 28-30, 2029
April 27-29, 2030
April 26-28, 2031
---
Want to learn more about other cheerleading competitions? See some of our other competition guides:
---
Disclaimer: this is not official information from the USASF or IASF. Visit their websites for official info from the organizations.