If you have ever considered taking up cheerleading at the university level – here are some things to know!
This article was written by one of our content contributors. Do you want to become one as well? Read more about it here!
---
With official International Olympic Committee recognition in 2021, more and more budding athletes are expected to take up the sport of cheerleading.
In 2016, over 60,000 athletes registered in an Australian All-Star Cheer Federation (AASCF) competition, making it one of Australia's fastest-growing sports.
Cheerleading's status as one of Australia's fastest-growing sports can be attributed to the rise of university cheer, with many cheerleaders finding an avenue to cheer at the university level, including many of Australia's world-level cheerleaders.
Learn more about the International Olympic Committee's recognition of cheerleading: Cheerleading Receives Full Olympic Recognition – What Does This Mean?
University cheerleading fights the stigma of athletes unable to start a new sport in their adult years.
It becomes typically assumed that to become an elite-level athlete, requires years of training starting from childhood (most especially in gymnastics). But the emergence of world-level cheerleaders, who often discover the sport in their university years, disproves this assumption.
Whether you're an experienced All-Star cheerleader or brand new to the world of cheer, university cheer provides a fun way to get active or an opening to compete in elite-level sports. For those eager to leap into the world of university cheer, keep on reading to learn all the details to be aware of when starting university cheer in Australia!
Rule Differences Between All-Star Cheer & The University Division
University cheerleading offers a similar program to the all-star division cheer, where teams will perform at AASCF competitions under the University division.
For the most part, university cheer follows typical All-Star rules – in that teams perform for 2 minutes and 30 seconds worth of routine that involve stunting, dance and/or tumbling.
However, under the university division, some rules differ.
A drastically differing rule involves levels being divided as level ½, level ¾ and level ⅚. This combines a broader range of stunts and tumbling skills in university performances rather than individual levels.
As well as combining levels, University cheer excludes jumps from the score sheet and ultimately, university cheer performances.
A stereotypical visual of cheerleading involves the use of poms, microphones and signs at the start of a routine. Like you may have seen in "Bring It On", the university division involves a crowd-leading section.
The crowd-leading section judges a team's ability to energize and lead the crowd, with teams combining their university chant with motions and stunts. An aspect typically not seen at the All-Star division.
Using chants, props and poms, the flamboyant performance of the crowd-leading section leads to an impressionable start to a team's performance.
Exclusive University Competitions
University cheer teams are able to compete in AASCF competitions, as well as perform in exclusive competitions for teams to represent their university.
UniSport Nationals is an annual sporting event for student-athletes around Australia to compete as part of their university.
UniSport's national cheer and dance competition gather Australian university teams to compete at either the ½ level or ¾ level for all-girl and co-ed teams. The competition follows ICU World University Championship rules, that are universal to all university division competitions, as listed above.
Upcoming UniSport Nationals in 2022 is to be held in Perth, Western Australia.
Starting in 2018, the FISU World University Cheerleading Championships is a biennial event that gathers university cheerleading teams from all over the world to compete at the highest level of university cheerleading.
FISU has announced, "from 2022 onwards, Cheerleading will be played in a University World Cup format, with university teams competing instead of national squads".
This differs from previous years, where one university cheer team was to be nominated to represent their country at the University World Championships. This opens up the opportunity for many more teams to participate and compete at this elite level of competition.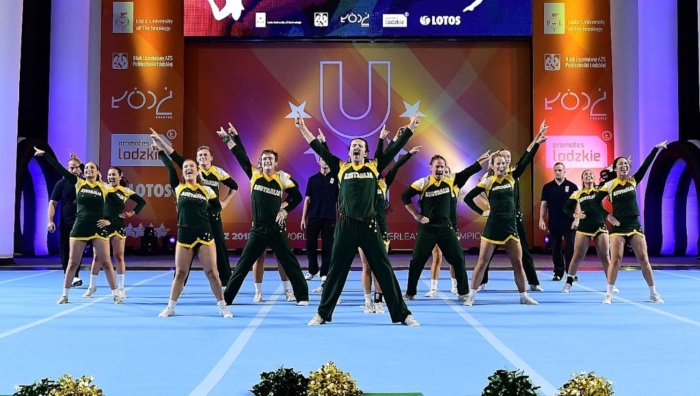 The FISU Cheerleading Championships are a rare opportunity to compete internationally at the university level.
With the increasing recognition of cheerleading in mainstream competitive sport, after receiving IOC recognition, the sport is expected to continuously be introduced into more international university sporting events.
---
Do you want to learn more about the biggest cheerleading championships? Do you know the difference between The Cheerleading Worlds and ICU Worlds? Or what makes The Summit different from The D2 Summit?
Here are some articles for further learning:
---
Social life
Not only does university cheer provide an opportunity to get active, but it's also a great opportunity to make friends!
University cheer teams provide a hybrid experience of being part of a sporting club as well as a university club.
Throughout the year, university cheer clubs put on social events, such as balls and parties that encourage team bonding within the team and the club. Often opportunities arise with joint club events with cheer teams across other universities to build and strengthen the network of university cheer.
Many university cheer clubs also host training camps during the semester break. Taking advantage of the break, athletes build on their skills and create lifelong bonds as part of their university cheer experience.
For those wanting to make the most of their university years, consider getting involved in your university's cheer team! Whether it's making lifelong memories and friends or keeping yourself active – university cheer has it all!