Coaching cheerleading can be difficult, especially if you're a new coach. It can be hard to figure out things like; What is important to think about? How do you work on being clean? What stunts should you start with?
There are a lot of questions…
We asked coaches for their best tips, and they gave advice on:
Being clean
Building relationships
How to work on stunts
Drills
and much more!
No matter if you're a brand new coach or have experience already – read this, take notes and get ready for a great season!
---
1: Bullying, being clean & research 
"My tips are not to let bullying happen, if you see it, try and knock it on its head then and there no matter what.
Do research on how to make stunting unique and find a way to make it look super-elite while still being on that level. Talk to people from other gyms, having connections is always good.
Make sure a section is completely clean and everyone is comfortable. If you need to isolate the skills in stunting and make sure they hit before connecting in a sequence. Not being clean is the main thing I see."
– @Taylaelle
---
2: Bonding, contacts & stunts
"Take the time to allow the groups to bond, it will pay off in the end! A close team is a team that will have a successful season!
Also the more contacts you can make as a coach, the better. We can't do this alone and most coaches are always happy to help!
Stunting: start with the basics. A team that is safe and clean will outscore a crazy routine with no technique every time."
– anonymous
Do you want even more coaching tips? Check out this post: Practical Things Every Cheer Coach Should Know. Don't miss thing number 6!
---
3: Technique & drills
"My advice to new (and less new) coaches is to never "cheat" when it comes to technique – always correct the athlete's shape and grips! Always work with drills before they try the actual skill.
If they can't do the drill, don't do the skill 🤓
Especially if you're coaching a mini or beginner/novice team, put a lot of time into basics and drills! Those athletes are your gym's future and if they don't learn the correct way from the start, it's going to be a lot harder for them to re-learn later on."
– anonymous
---
4: Expectations, drills & upgrading stunts
"Don't have too high expectations your first year, if things don't go as planned: it's totally fine!
Another important thing is to work on drills before skills! Sometimes as a new coach you just want to go in really fast on the harder skills, especially in stunts, which usually just leads to your athletes being stressed and the stunts looking messy or falling.
You'll get a better score for level appropriate stunts that hit and look tight, than stunts with elite skills that eventually will fall or look unsafe.
Make sure they can hit the easiest version of the stunt perfectly before adding on harder skills to the stunt.
Varsity has these amazing boxes on their website where you can see what's level appropriate and what's elite for your level. Take a look at the boxes and make several versions of the stunt you've planned.
Start easy, work on technique, and look at which skills you can add later on to make the stunt elite. Good luck!"
– @coach.laxen
---
5: Relationships
"In my opinion, one of the most important things is building a personal relationship with the athletes. Every individual is different and therefore needs a mix of personalized and general training."
– @coachlassie
---
6: Passion
"Make sure you are passionate about kids and people. Of course, you are passionate about Cheerleading and coaching or you wouldn't do it. Being passionate about people and how to teach life lessons is the most important part."
– John Davenport Knowles, Cheer Athletics coach. 
Tip: Read our full interview with John here.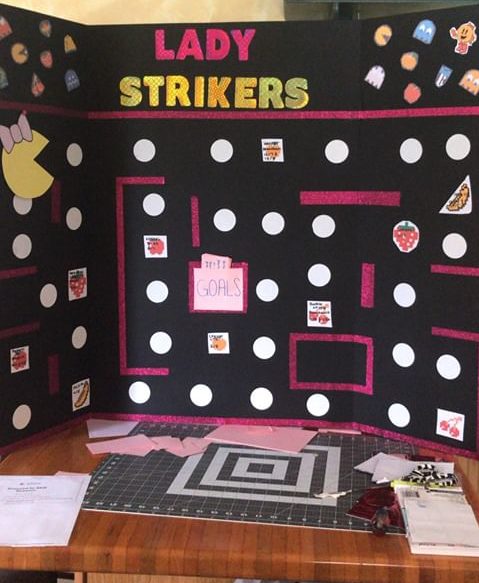 ---
7: Goal board
"My tip is to keep things positive. We have a goal board with goals that the kids made for the season and we add to the board as we get them.
This shows the girls that they are progressing even if it doesn't seem like it and even if you're not winning comps, you're still accomplishing goals."
– anonymous
---
8: Adapting & adjusting  
"Remember that every athlete is different and there is no recipe book for coaching.
Don't be afraid to change things up to cater to each individual kid. They all have a different story and it's important to be able to adapt to each learning style."
– anonymous
---
9: Communication & hitting
"Always give as much info as possible to parents/athletes – they are curious! And don't be afraid to set the skill level a bit lower. It's better to hit the routine than have high skills that don't hit!"
– anonymous
---
10: Choreography app
"If you need a visual for transformations or to organize your choreography, I can really recommend the free app "ChoreoRoom", It's foolproof, easy to use and makes everything so much easier when planning your routine."
– @franziskamariabe
---
Hopefully, this helped & you got some great tips!
What else do you want to learn as a coach? Comment and well write about it!