Some people love them and some people hate them… Either way, you can't escape the fact that having a themed routine is a huge trend in the cheerleading world right now.
This list includes many great ideas for all ages, regardless if you want a theme just for the music or go all-in with props and uniforms!
Psst… we might have 40 more ideas at the end of this post.
---
CUTE THEMES
1. Fairytale
2. Tinkerbell
3. Princess/prince theme
4. Barbie
5. Disney theme
6. Disney characters
7. The Powerpuff Girls
MAGIC, FANTASY & SCIENCE FICTION
8. Superheroes
9. Space/aliens
10. Magic show
11. Fantasy theme
12. Wicked
13. Genie
14. Futuristic
15. Spy Theme
16. Villains/witches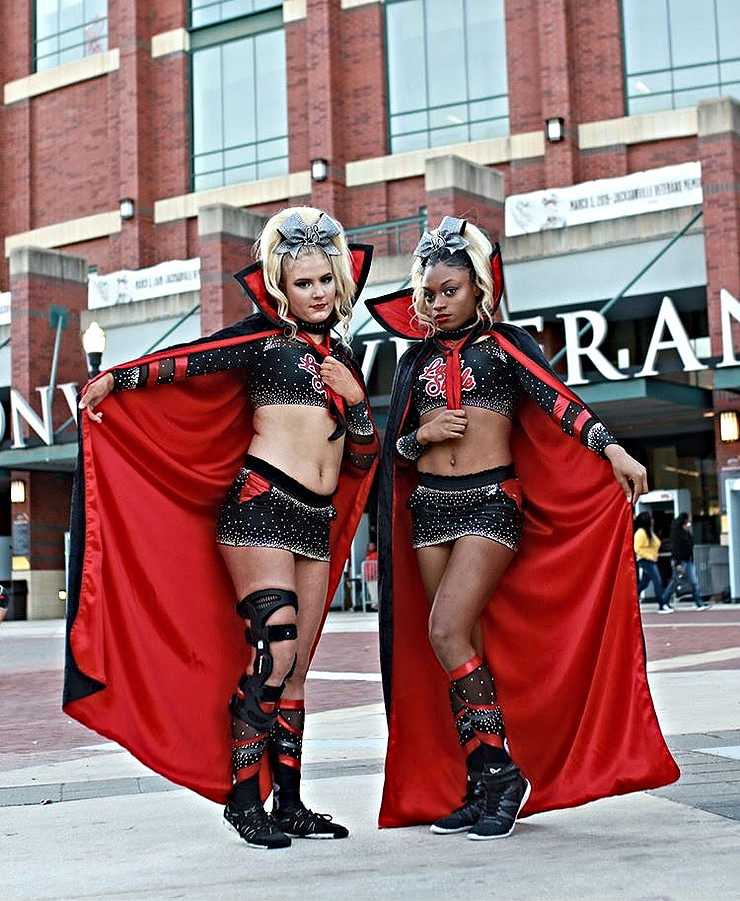 RCA Lady Sizzle
MOVIES & TV
17. Pretty Little Liars
18. Gossip Girl
19. Friends
20. Game of Thrones
21. Inspector Gadget
22. Harry Potter
23. Hunger Games (imagine having "May the odds be ever in your favor" as a voiceover…wow)
24. Mary Poppins
25. Mean Girls
26. Alice in Wonderland
27. The Greatest Showman
28. Star Wars
29. Annie
30. Mama Mia
31. Charlie and The Chocolate Factory/Willy Wonka
32. Pitch Perfect
33. 90s movies
34. High School Musical
35. Moulin Rouge (example routine here)
36. Marvel/Avengers
37. Grease
POWERFUL THEMES
38. Queens
39. Royal/royalty theme
40. Divas
41. Wrestling/knockout
42. Girl power
43. Caution/warning
44. Warriors
You might also like this post: Routines with different types of props
FANCY THEMES
45. Fame
46. Glamour
47. Hollywood
48. Movie stars
49. Fashionistas
50. Runway/fashion show/catwalk
MUSIC
51. 80s music
52. Spice Girls
53. Boy bands
54. Musical
55. Disco
HAPPENINGS & PLACES
56. Circus
57. Casino/gambling
58. Halloween
59. Carnival
60. New York theme (this was suggested by a follower before Shooting Stars announced that they were doing it – pretty cool!)
Do you want even more theme ideas? 
Subscribe to our weekly newsletter and get this list with 100 ideas! That's right, we added 40 more!
You can even print it out and add your own notes.
Click here to subscribe! We never spam & you can unsubscribe at any time.