Whether the routine has a theme or not, using some type of prop has become more and more popular in all-star cheerleading.
Below is a list of props and examples of routines where they are used in different ways, no matter if you want some inspiration for your own team or just because it's fun!
Disclaimer: Keep in mind that rules can change. Make sure you look up what is legal/illegal before using anything.
---
1: FLAGS & BANNERS
Using some type of flag or banner seems to be the most used type of props. They are (most often) easy to handle, can be used in a lot of different ways, and can be as big or small as you like.
Top Gun All Stars – TGLC
A team that has used flags in different ways is Top Gun Large Coed. They are a great example of using the props and not only showing it in the routine.
In 2014 they used small, black flags that the flyers attached to their socks in the running tumbling section before baskets. When the flyers kicked in the baskets, you could see one letter on each flag, which spelled out J-A-G-U-A-R-S! If you want to see that routine, click here.
Something that always gives us chills is when they surprised everyone at Worlds 2016 with a big flag saying "TGLC" and having boys jumping through the letters and straight into their tumbling!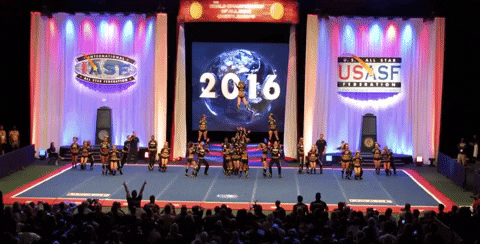 Twist And Shout All Stars – Diamonds
Click here to see Diamonds 2018-2019 routine where they use two flags in the dance!
Top Gun All Stars- Lady Jags
Lady Jags had a really creative way of using two big flags in their pyramid last year.
Let's just say it includes two flyers being upside down! Watch it here.
---
Props are usually a part of a themed cheerleading routine. Want to get some creative theme ideas? Check out this list:
---
The California All Stars – Smoed
"Racecar" was Smoeds' theme in 2019, and what's more fitting than using racing flags at the beginning?
Watch the routine here and see how they used the flags and other small props throughout the routine.
World Cup All Stars – Shooting Stars
Shooting Stars showed a very creative and different way of using a flag in their Lady Gaga-themed routine in 2017.
A flyer held the flag as a cape while the stunt slowly went up. It created a very cool illusion, making her seem very tall. They also put a stunt group behind it – throwing a basket that went up as the flag came down! See it here.
Five Star Athletics – Dream
Have you ever seen a magic trick in a routine? No? You have after seeing this routine!
Things like a card and a wizard hat popped up in the routine but in the end, it got even better. Right before the end of the dance, they held up a big banner saying "Abracadabra", ripped it in half, and revealed the trick. Some girls suddenly had yellow dresses on…
Wondering how it happened? The answer is right here.
Top Gun All Stars- Angels
In honor and memory of the victims of the Orlando (where their gym is located) shooting in 2016, Top Gun Angels used a banner with the text "Orlando strong", a halo, and pride-colored wings for the 2016-2017 season.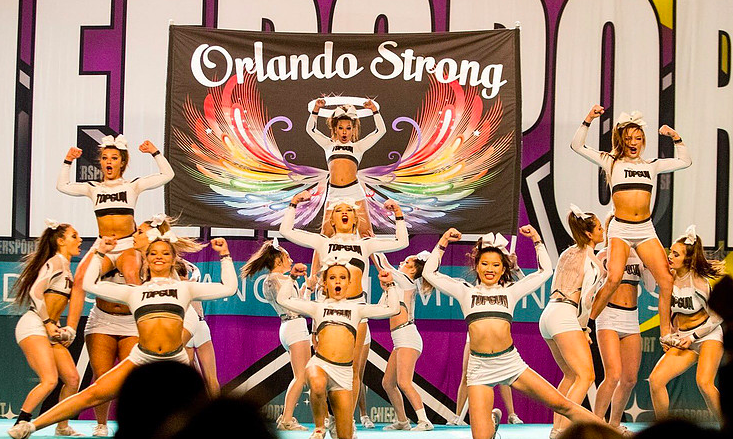 In 2018 they held up a flag at the end of the routine with "TG" written on it, also with a halo and wings. Watch their 2017 routine here and the 2018 one here.
World Cup All Stars – Suns
Suns used four big banners (one for each letter of the teams' name) in their routine at Worlds 2017.
They made this into a great transition from the pyramid to the dance section. The letters were revealed just when the pyramid came down and the dance began as four girls walked through the banners, ripping them in half! See it here.
Vancouver All Stars – Ice Queens
All of the flyers on the team held up a small flag! Click here to see.
The California All Stars – Blackjacks
Similar to Top Gun Angels, Blackjacks also honored victims of a shooting.
The routine ended with them holding up a banner showing the American flag and the text "Vegas Strong" (the shooting was in Las Vegas which is where their gym is). Here's the link to the routine.
---
2: SIGNS
Using signs in routines is not quite like a banner or flag.
First of all, they can't be as big because that would definitely be a struggle… That also means you can't have much on them other than letters or words because people won't see them from a distance.
Teams still manage to get very creative with signs!
The California All Stars – Crystal
Another example of using both sides of the sign is this routine.
The music had a voiceover saying "All eyes on Crystal" so they held up signs with big googly eyes and then turned them, showing the letters "C-A-L-I".
Cheer Infinity Athletics – Envy
Using signs in a pyramid? Yes.
Did one get chills watching it live? Yes.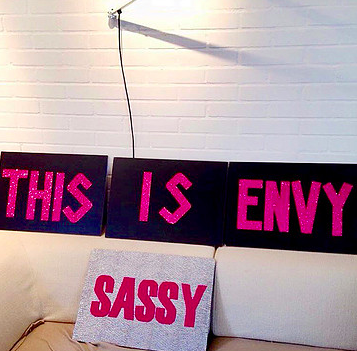 Click here to see when Envy used a sign saying "sassy" in the routine, plus three others saying "THIS. IS. ENVY" along with a voice-over in the pyramid.
The California All Stars – Aces
Aces 2016 routine is another example of using both sides of a sign.
While one side of them showed letters saying "C-A-L-I-F-O-N-I-A" and "A-C-E-S", the other side worked like mirrors.
They also used a smaller one in the form of a playing card (an ace of course) to fit their Las Vegas/gambling style and theme.
CheerXplosion – Purple Angels
Following Aces' theme, Purple Angels had a "V.I.P." sign in their 2016-2017 Las Vegas routine.
See the routine here for examples of using a sign multiple times in different sections!
---
3: CLOTHES & ACCESSORIES
Not as usual to see – but just as fun!
World Cup All Stars – Shooting Stars
If it's one team that can pull off a routine with a theme and props – it's Shooting Stars!
Their 2015 routine had "Jersey Girls" as a theme and a girl wearing a red jacket in the running tumbling section, see it here.
A red jacket made a return in their 2018 routine, but this time as a circus ringmaster to fit their circus theme! See the routine here (the jacket comes on after running tumbling).
For the 2018-2019 routine with the Wonder Woman theme, they all wore headbands just like in the comics and movies! Watch the routine here.
Top Gun All Stars – Double O (previously OO5)
"STOP! I lost my glasses… found 'em!"
Double O always does something innovative and 2015 was no exception! Click here to watch their amazing routine with glasses on during the dance.
Cheer Florida Allstars – Sea warriors
In both 2016 and 2017, Sea Warriors had a very unique and original idea – headphones!
"Headphones was an idea that in the dance, the music will go off when they're dancing because the headphones are on, and come back on when headphones come off."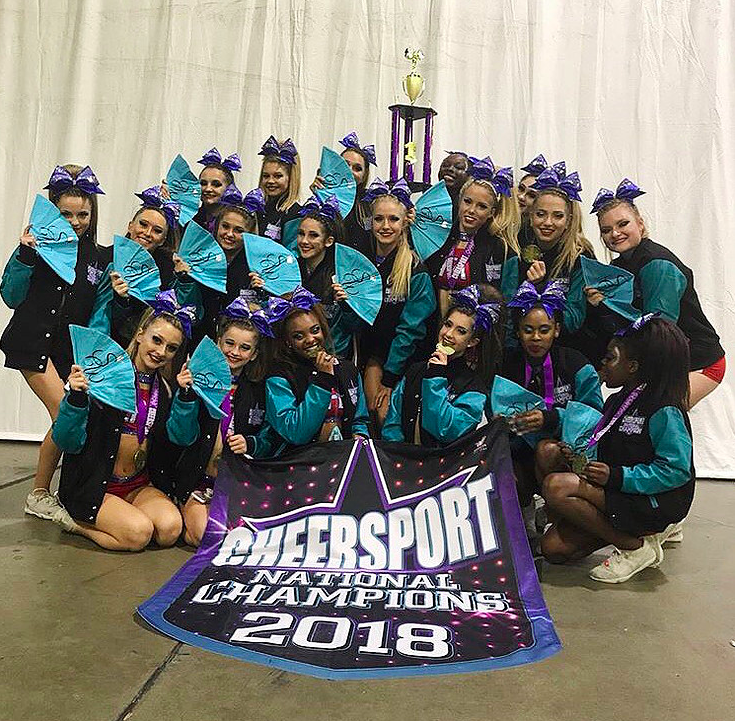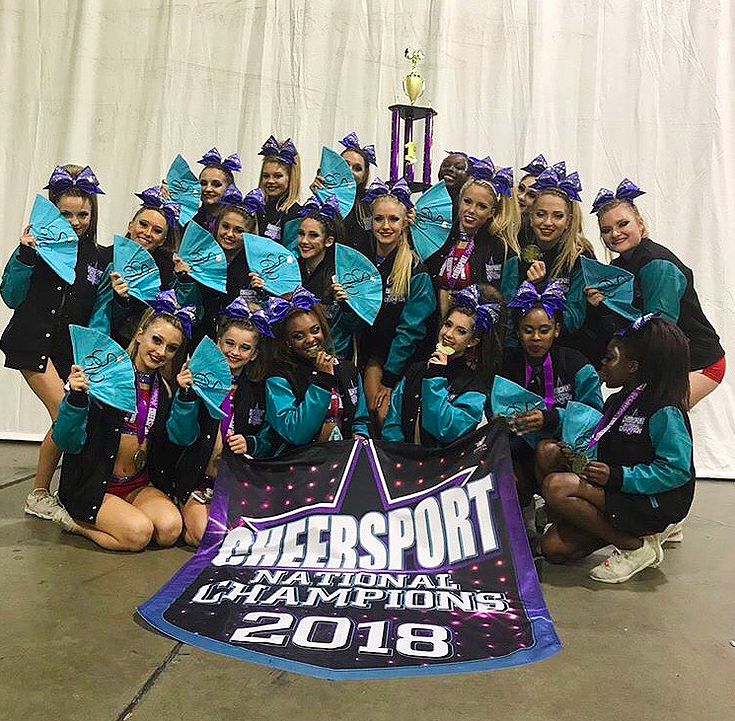 For their 2018 routine, they got had another creative idea – fans!
"The dance usually is the hot part of the routine, so our idea was to take out fans to help cool us down in the dance. We are sea warriors so it pertains to the ocean. " – Sea Warriors
How cool?! Get it? "cool"… Okay, that was bad… Anyways – see their 2016 routine here, 2017 here and the 2018 one here.
Inspire Athletics – Reign
A pair of red shoes, a lion, a scarecrow, a witch… does this sound familiar? Then you have probably seen The Wizard of Oz movie.
Inspired by it, Reign has a "Wizard of AUS" (as in Australia where they're from) themed routine with a lot of clothes and accessories that you can see here.
Vancouver All Stars – Ice Queens
Ice Queens 2018 routine had a Spice Girls/"Spice Queens" theme and they had 5 girls wearing different Spice Girls outfits!
Core Athletix – Black Diamonds
"Black Diamond is ready to rumble! And in this corner, the heavyweight champion of the world!"
Boxing theme = boxing jackets!
Watch Black Diamonds routine here (they also had signs saying round 1,2 and 3).
Twist and Shout Allstars – Diamonds
Diamonds have used different types of props before, like flags and banners. In 2021 however, one of the flyers wore a wig!
The team had a "Dora the Explorer" theme, so the flyer had a Dora wig. Watch the routine here:
---
4: OTHERS
Top Gun Allstars – TGLC
In 2015, TGLC used hoops with globes on and the letters "W-O-R-L-D" on one side, and "C-H-A-M-P-I-O-N-S" on the other.
They had girls doing roundoff pikes (?!) through the hoops! Another great example of actually the props to create something even more special.
River City Allstars – Lady Sizzle
"Breaking news
EXTRA! EXTRA!
Read all about it"
Lady Sizzle used a "newspaper" at the beginning of their routine in 2018.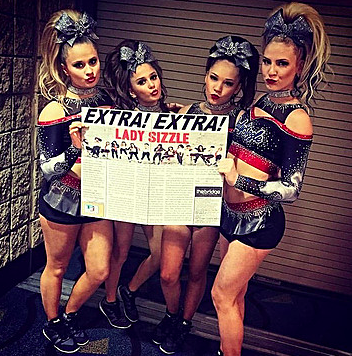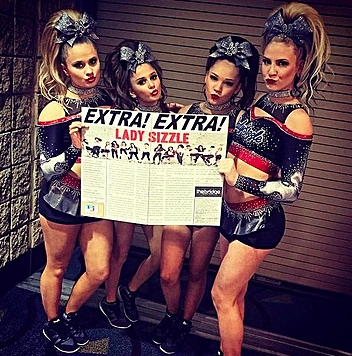 What made this even more fun is that the photo on it was of the actual team and "EXTRA" has to do with that they compete in the extra small division!
For more about the newspaper and their new 2018-2019 theme, read our interview with them here!
ACE Cheer Company – Warriors
Pom poms in All-Star cheerleading is a bit of a no-no for some, but there are teams that have used them!
An example is this routine of Warriors 2015.
---
Time to discuss: Do you like props or not? Did someone take it too far? Any type of props that shouldn't be allowed?
If you made it all the way here (hopefully), share your thoughts & opinions in the comments!