If you're feeling under the weather and seeking some entertainment, what better way to pass the time than binge-watching cheerleading shows? We recently re-watched "Cheer Full Out" and were instantly reminded of the remarkable and truly iconic GymTyme Blink team.
Let's delve into the reasons why they left an indelible mark on the cheerleading world!
Note: this post contains show spoilers.
---
1: They became a team after half the season
Blink was made up of athletes from two other GymTyme teams – their International Open Coed 5 team "Black" and International All-Girl 5 team "Pink". They decided to combine the teams and their names = Blink!
That didn't happen until January 2015 when most other teams would have practiced for at least 4 months already. The team was still able to put on a show and hit routines with some crazy skills.
Feel like binging as well? See our list of 13 Of The Best Cheer Shows & Movies To Binge-Watch.
2: Michaeleddie & Gabi reunion
While it's crucial to appreciate and acknowledge the entire team, it was undeniably exciting to see the reunion of two specific athletes, Michaeleddie Rivera, and Gabi Butler.
Both are famous from the well-known California Allstars Smoed team and brought their remarkable talents to GymTyme Allstars Blink. As a viewer, you can expect tons of nostalgia seeing these icons perform together once again!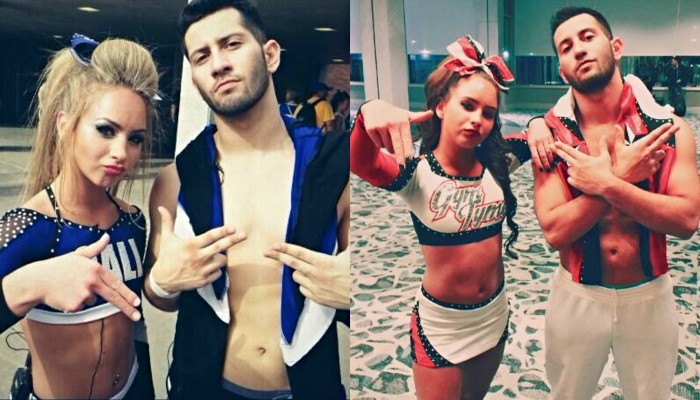 3: The stunt
Before their changes for The Cheerleading Worlds, Blink's impressive stunt lasted eight 8-counts, which is normal, but without putting down the flyers a single time!
Just imagine the strength and endurance required to hold a level 6 stunt with two bases for such a long time, without any pauses. Kudos to the entire team for their display of skill and the creativity that went into that stunt.
4: Their warm-up dance
To see the essence of Blink's energy and team bond, all you need to do is watch their warm-up dance!
The dance is at 05.10 – that's all you need to know:
5: The overall creativity
What made Blink stand out was their absolute dedication to being creative and pushing their team and skills to the max.
Every part of their routine was filled with new ideas, and each section had something unique and innovative. Their non-stop pursuit of creativity took their routine to a whole new level!
6: First full out = 4 days before Worlds!!
They had made numerous changes to their routine before The Cheerleading Worlds and hadn't done a full out with the new skills until the same week as the competition…
But guess what? They still placed top 3 at Worlds! Talk about a display of determination and perseverance!
7: The team's determination
One of the reasons Blink hadn't done a full out earlier was that nearly half the team was simultaneously part of the Louisville Coed college team. Juggling two teams with demanding practice schedules, different competitions, and routines demonstrates the extraordinary talent possessed by these athletes. They never gave up but pushed even harder to reach their goals.
In conclusion, GymTyme Blink is an absolutely legendary team in the cheerleading world. From their mind-blowing stunts to their jaw-dropping routines, they left us all in amazement. Their team spirit and determination were off the charts, and they proved that hard work and talent can take you far!