What do you do when you're sick and bored? Binge-watch cheerleading shows!
I watched the whole "Cheer Full Out" show last week and was reminded of what an amazing and iconic (is that word used too much…?) team Blink was!
Note: this post contains show spoilers!
---
1: They became a team after half the season
Blink was made up of athletes from two other GymTyme teams – their International Open Coed 5 team "Black" and International All-Girl 5 team "Pink". They decided to combine the teams and their names = Blink!
That didn't happen until January 2015 when most other teams would have practiced for at least 4 months already. The team was still able to put on a show and hit routines with some crazy skills.
Feel like binging as well? See our list of 13 Of The Best Cheer Shows & Movies To Binge-Watch.
2: Michaeleddie & Gabi reunion
People should always care and talk about the whole team and not just a few athletes, but it was so fun to see these two Smoed icons back on the same team!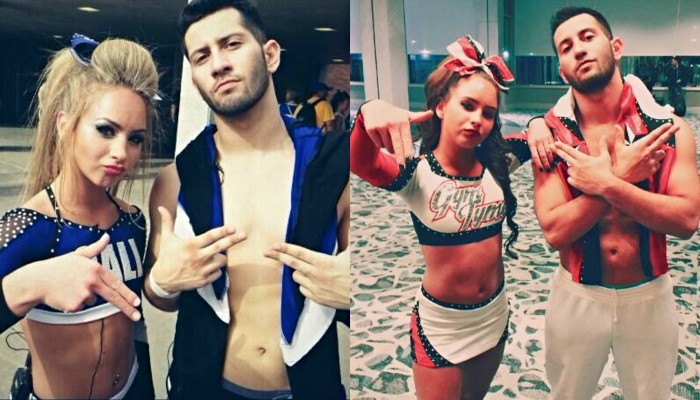 3: The stunt
Before the changes for Worlds, the stunt was eight 8-counts long (which is normal) but they didn't put down the flyers a single time!
Imagine holding a two-based level 6 stunt for so long… creds to all of them! Plus the stunt was very creative!
4: Their warm-up dance
The dance is at 5.10 – that's all you need to know.
5: The overall creativity
Every single part of the routine was filled with creativity and testing the limits of the team and the skills. Every section had at least one different, creative element to it which made the routine even more exciting to watch.
6: First full out = 4 days before Worlds!!
They made many changes before Worlds and hadn't done a full out with the new skills until the same week as the competition… and still got top 3! Incredible!
7: The team's determination
One reason they hadn't done a full out earlier was that almost half the team was on a college team (Louisville Coed) at the same time.
Being on 2 teams at the same time with practice almost every day, different competitions and two different routines shows how incredibly talented the athletes were. They never gave up but pushed even harder to reach their goals.