Disclaimer: The following article does not necessarily reflect our own opinions. We do not make any personal statements, but rather present thoughts we found the cheerleading community to have.
In the latest week, the U.S. All-Star Federation (the organization in charge of cheerleading in the United States) released information about hair and makeup guidelines meant for allstar cheerleaders.
People's reactions to the news are very mixed and there seem to be a lot of questions, so let's have a look at exactly what the USASF is saying and try to clear things up.
---
The screenshot that has been spreading on social media tells us that they are "developing an informational packet for athletes/parents to help spread awareness of the need for a more athletic, age-appropriate image for our sport."
So what does this mean?
They are essentially saying that cheerleading needs to be more focused on athleticism (meaning qualities such as strength and endurance that make a great athlete). That is probably something that most of us can agree with.
The information is meant for athletes and parents, which means that they are not actual rules, at least for now…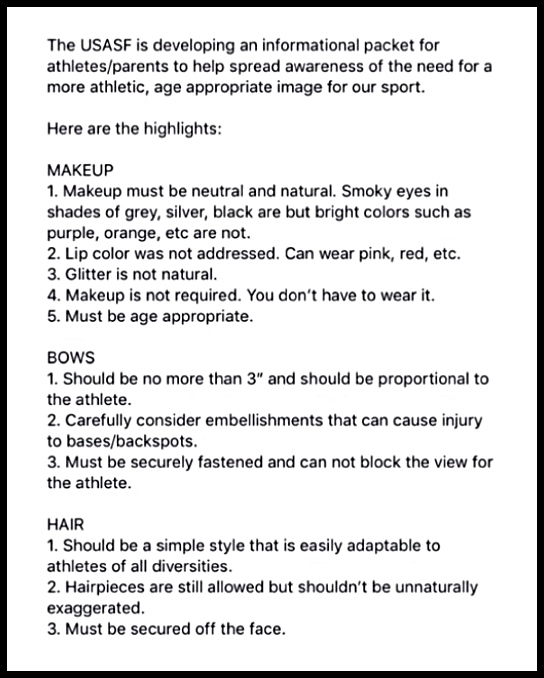 Breaking down the list of guidelines number by number should help to understand what USASF is trying to say:
MAKEUP
1. "Makeup must be neutral and natural. Smoky eyes in shades of grey, silver, black are, but bright colors such as purple, orange, etc are not."
This seems both logical and not logical at all. That the makeup should be neutral is one thing, but saying that black eyeshadow is more natural than a light orange is perhaps a bit odd. Wearing any makeup at all isn't natural to begin with, but it has become a way of art or expression and is now a part of almost everyone's daily life.
2. "Lip color was not addressed. Can wear pink, red, etc."
What they are saying here is that they did not discuss what colors of lip products should be used. But, they are also not saying that all colors are allowed…
3. "Glitter is not natural."
Just saying that it "is not natural" is a pretty weak argument. Pulling your leg up behind your back in a straight line with your foot over your head (aka a needle) is not natural… Throwing a person up in the air while they do a kick and then spins two times (aka a kick double) is not natural…
As Cheer Theory said on Twitter; "cheerleading is not natural."
4 & 5. "Makeup is not required. You don't have to wear it." + "Must be age-appropriate."
This is the part that most seem to agree with. Nobody ever said teams have to wear makeup so if you truly don't want to wear it – don't!
Makeup is often a heated topic when it comes to younger athletes and teams, as many parents don't feel comfortable putting it on their kids, which is understandable. There have been many discussions about some parents of young athletes on social media, putting on too much makeup than what is considered appropriate for their age.
Maybe these guidelines should be more directed to mini/youth/junior teams? Having a rule for the minimum age of makeup in competitions? It is still a hard question though because almost no one agrees on what a "right age" for starting to wear makeup is.
---
BOWS
There are only 3 bow guidelines:
1. "Should be no more than 3 inches (7,6 centimeters) and should be proportional to the athlete."
2. "Carefully consider embellishments that can cause injury to bases/backspots."
3. "Must be securely fastened and can not block the view for the athlete."
The bow and hair guidelines haven't caused as much of a discussion as the makeup part, maybe because of the trend with more and more teams doing "natural" hairstyles without bows. Bows should simply not be too big and should not have too many decorations on them.
Exactly how many athletes have gotten injured because of… a bow… is a mystery, but safety is still always first.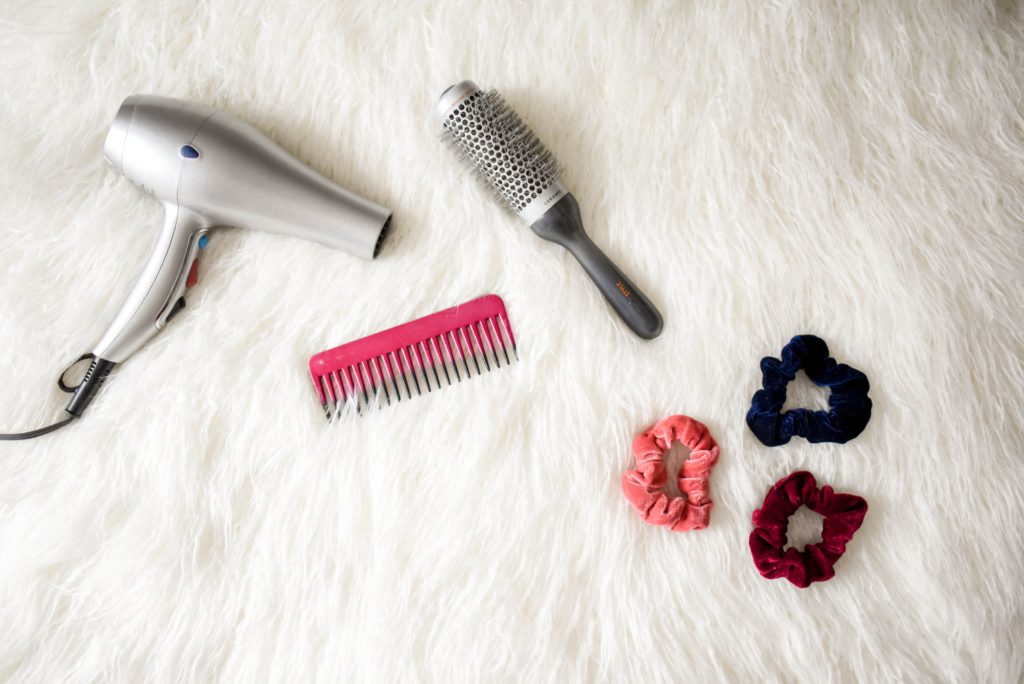 ---
HAIR
These are also much more straightforward and clear than the makeup guidelines; Hair should be out of the face and every team member should be considered when deciding on a hairstyle.
1. "Should be a simple style that is easily adaptable to athletes of all diversities."
2. "Hairpieces are still allowed but shouldn't be unnaturally exaggerated."
3. "Must be secured off the face."
Simple as that.
---
Community reactions
While the intended purpose of this information is clear; making the image of cheerleading more athletic, it is not clear if this will actually help.
Stereotypes of cheerleaders and the sport itself are maybe not directly caused by what makeup looks or hairstyles teams have…
Many say that hair and makeup are simply a part of the sport and the performance and have always been. They say it feels like USASF is taking a step back in the evolution of cheerleading instead of forward.
Some also appear to be upset because they feel like there are more important things for USASF to focus on, like unfair scoring or how expensive it can be to cheer. "The actual problems."
Overall, the reactions to this new information can be summarized with the saying "If it ain't broke, don't fix it".
Do you think this is a step in the right direction or not? Share your thoughts!