Varsity Brands and the USASF are hit with a second lawsuit.
Earlier this year, we covered the lawsuit filed by Fusion Elite Allstars along with three law firms. They sued the two organizations for monopolizing the cheerleading industry.
In July 2020 they were faced with another lawsuit. In this article, we will explain the lawsuit and what it seeks to do.
We also talk about the organization "Take Back Cheer" that was formed along with the lawsuit.
Suggestion: read about the first lawsuit here for more background information.
UPDATE: We have been covering most major lawsuits against Varsity and others since this was filed. See all our previous (free) newsletters covering the lawsuits and investigations here.
---
DISCLAIMER: TheCheerBuzz is not affiliated with Varsity Brands or other defendants in any way. The following article does not necessarily reflect our own opinions. We do not make a statement in this lawsuit but present the facts in an unbiased form. Images displayed within this article are not affiliated with the lawsuit.
---
Who filed the lawsuit?
American Spirit and Cheer Essentials, Inc. (apparel company), Rockstar Championships (event producer), Jeff & Craig Cheer (cheer camps), and Ashley Haygood (school cheer parent), along with Falanga Law Offices.
Who is it against?
Varsity Brands, USASF, BSN Sports, USA Cheer, Herff Jones, Jeff Webb, and two capital & holding companies.
---
About the defendants
Varsity, USASF & Herff Jones
"Varsity Brands" includes many brands and companies most of us are familiar with. NCA, UCA, ICU, JAMFest Brands, Cheersport, Spirit Celebrations, and Epic Brands are examples of Varsity owned brands.
Read more about the competition market in this article. It explains Varsity's control of the market, found in the previous lawsuit.
We also covered USASF's and Herff Jones's involvement in the other lawsuit article linked above.
USA Cheer
USA Federation for Sport Cheering, or USA Cheer, is a non-profit organization. It is the "National governing body of sport cheering in the United States."
The organization is active in all star cheerleading, school cheerleading, and the new "STUNT" sport.
The lawsuit explains that USASF is a member of USA Cheer, yet USA Cheer shares its address with Varsity and doesn't have any employees. Instead, they use employees from Varsity when needed.
USA Cheer also has the same company president as Varsity Spirit, Bill Seely.
BSN Sports
BSN Sports is a company owned by Varsity that makes and sells uniforms and equipment to the school's sports teams. This includes sports, like football, baseball, lacrosse, wrestling, track, and cheerleading.
Their customers are junior high schools, high schools, and colleges.
Jeff Webb
The last defendant of the case (we won't be covering the holding companies) is Varsity's founder and former CEO, Jeff Webb.
Webb is involved in the lawsuit because he allegedly "conspired for many years and engaged in the market activity of most the defendants."
---
What's going on? A timeline of events.
The lawsuit goes back to 1948 to explain the history of the company.
Below are some key events:
(There are many more examples in the full lawsuit document, which you can read here.)
1948: Lawrence Herkimer (known as the "founding father of modern cheerleading") founded the National Cheerleaders Association, NCA.
1960's: Former University of Oklahoma cheerleader, Jeff Webb, started working at NCA.
1974: Jeff Webb left NCA and founded his own cheerleading business.
He founded the Universal Cheerleaders Association or UCA for short. This company eventually became Varsity.
1989: Varsity acquired* Varsity Spirit Fashions & Supplies.
*acquire means buying or taking control of a company/part of a company. (Source)
1994: Varsity acquired United Spirit Association cheer camps.
1995: American Cheerleading Magazine was founded. The company was later acquired by Varsity.
1997: Varsity extended its agreements with the Walt Disney Company & ESPN.
2003: An independent organization called the "National All Star Cheerleading Coaches' Congress", or NACCC was formed. The organization was founded by 5 coaches; Jamie Parrish, Joelle Antico, Elaine Pascale, Victor Rosario, and Kristen Rosario.
(Jamie Parrish is the founder of Georgia All Stars and a well-known choreographer. Joelle Antico and Elaine Pascale are the founders of World Cup Allstars and the coaches for their Large Senior team, Shooting Stars. Victor and Kristen Rosario are the founders of Top Gun Allstars and coaches teams like their Large Coed team, TGLC.)
NACCC was formed to establish standardized rules for the new type of cheerleading, all-star cheerleading.
2003: The USASF, U.S All Star Federation, was founded (partly by Varsity) in less than a week after the NACCC's first meeting.
USASF's goal was the same – setting standard rules for all-star cheerleading.
2003: Varsity paid the National Federation of State High School Associations almost 3 million dollars until 2010. Why? So that the Federation would recommend Varsity's competitions.
2005: NACCC was acquired by the USASF as they allegedly forced them (according to the lawsuit) to be combined. The NACCC was supposed to be a part of the USASF but was later dissolved, leaving the power of cheerleading rules to Varsity and the USASF.
2006: Varsity TV started broadcasting routines. Event participants must sign an agreement, saying that Varsity owns the filming and sharing rights.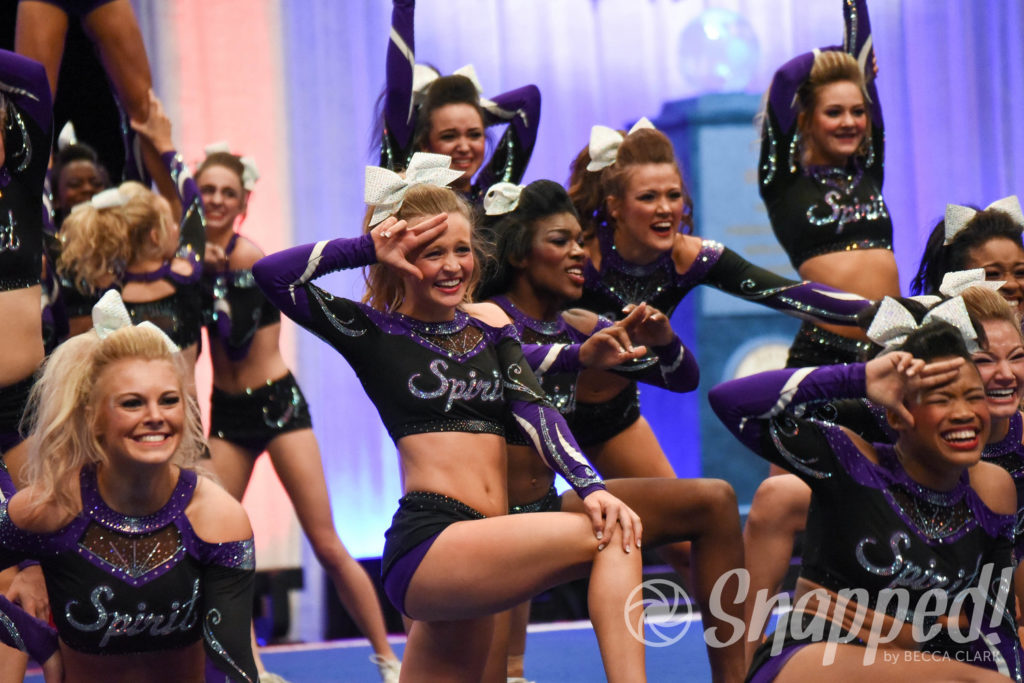 Photo from Snapped! by Becca Clark
2007: Varsity established USA Cheer and the International Cheer Union (ICU) to reach the international market.
2011: USASF banned all gym members from attending any competitions called "world championship", other than those held or sponsored by Varsity.
Here is a part of the letter:
"The policy of the USASF/IASF that no athlete, coach, judge, or official is permitted to participate in any way in any event that claims to be a World International Championship, other than the ICU (International Cheer Union) World Championships for National teams, or the USASF/IASF Worlds for All Star teams (…) Failure to comply with this rule is grounds for disqualifying any athlete, coach, judge, or official from participating in the ICU and USASF/IASF World Championships."
2012: Varsity canceled their partnership with the cheerleading shoe brand, Nfinity. They announced that Varsity would be starting their own shoe brand.
2012: Varsity acquired Cheersport.
2013: Like the member ban in 2011, UCA sent out the following information to scholastic cheerleading members:
"It is understood that teams participating in World University Cheerleading Championships will not knowingly and willingly participate in any other event promoted as a 'world university cheerleading championships'. teams who do not adhere will be disqualified for the 2013 World University Cheerleading Championships and will forfeit the opportunity to participate in the tournament the following year."
2013: USASF changed its yearly membership application to include emails, phone numbers, addresses, and birth certificates. They share this information with Varsity, giving them marketing information not available to competitors.
2016: Varsity entered an 8-year agreement with FloSports, and FloCheer was formed. The companies will provide livestream coverage of The Cheerleading Worlds and Dance Worlds. Users must pay to watch, even their own team.
Competitors must sign an agreement, giving Varsity the exclusive rights to these videos.
2017: The "Video Media Policy" was published by Varsity. No live streaming or commercial recording is allowed at competitions and will result in disqualification.
2018: Bain Capital acquired Varsity Brands and its other companies for over 2 billion U.S dollars.
2019: Varsity's yearly earnings exceed 2 billion dollars.
---
3 additional allegations:
1. Through USA Cheer, they have passed a rule saying that school teams who wish to compete in (most of) the State Finals or National Competitions must attend Varsity Camps during the season.
2. Varsity has its own divisions of choreographers, called "Pure Choreography." These choreographers know about scoring changes ahead of time, giving them an advantage over competitors.
3. When Varsity books arenas for competitions, they often restrict the arena from renting it to other event producers that same season. This limits available arenas for independent event producers.
---
Are they breaking any laws?
Yes, according to the lawsuit. The following laws are stated to be violated:
1. Creating Illegal Restraints of Trade in Violation of 15 U.S.C. § 1
This means having a contract between a buyer (customer) and the seller (company), that restricts the buyer from engaging with a similar seller. These types of contracts damage other's opportunities of business and are illegal.
2. Monopoly Making in Violation of 15 U.S.C. § 2
It's illegal to monopolize, try to monopolize, and cooperate with others to monopolize an industry.
3. Making of Agreements Not to Use the Goods of Competitors in Violation of 15 U.S.C. §14
This law says it's illegal to sell products or negotiate contracts with the agreement of not using competitor's products. These actions reduce the competitor's market and are not allowed.
The lawsuit states that Varsity has violated the law in the competitive cheerleading market (including competitions), recreational, junior high school, high school, and college sideline cheerleading market (including competitions), and the market for cheerleading camps.
Other markets include the sports equipment and uniforms market, the market for school marching band uniforms, and the school rings, yearbooks, caps and gowns, and graduation announcements market.
Varsity is active in all of those markets, however, we only cover the cheerleading market in this article.
4. D. Violation of the Georgia Racketeer Influenced and Corrupt Organizations Act
The law says it's illegal to maintain or acquire business through racketeering. Racketeering means operating a business through illegal activity or with illegally-driven income.
This can be done by using bribery and fraud crimes for example.
5. Violation of the Federal Racketeer Influenced and Corrupt Organizations Act
Similar to the previous law. The lawsuit states that all of the defendants have intentionally defrauded (illegally taken) their competitor's rights to a fair market.
---
What does the lawsuit seek?
The lawsuit seeks equitable relief* and to recover money damages, on behalf of themselves and others similarly affected.
*Equitable relief means that Varsity is ordered either to do or stop doing something.
Amongst other things, the lawsuit demands that (1) there should be restrictions for the defendants to stop their anti-competitive control, and (2) reorganizing or breaking up one or more of the defendant companies, including the USASF and USA Cheer.
As for recovering money damages, they seek to receive three times the amount of money that they have lost due to Varsity's control.
Trial by a jury is demanded.
---
The "Take Back Cheer" organization – get involved
An organization was formed by the law firm behind the lawsuit, called Falanga Law.
It's called "Take Back Cheer" and encourages athletes, parents, and industry professionals to get involved:
"Take Back Cheer is a pretty simple concept. We want athletes to be treated with respect. We want the governing bodies of cheer to be fair and transparent. And we don't want to be price gouged doing what we love.
For too long, one company in particular has dominated cheer. The market has been monopolized by it, and it has been able to control everything we d.o (…) It have even argued that cheerleading is NOT A SPORT just to maintain control of the industry.
It is time for us to Take Back Cheer!"
You can find the organization's website here.
They also talk about the future of cheerleading, saying:
"Imagine cheer if you:
•Didn't have to pay to watch your performance online!
•Didn't have to pay at the door to watch your child compete after paying a very expensive registration fee!
•Didn't have to worry about the governing body of cheer being controlled by a big money monopoly that DOES NOT have your interest at heart!
•Could play current popular music in your routines like other sports.
•Could actually have a shot of being competitive without having a "Big Gym" name
•Could FINALLY be treated as equals without private "network" agreements for the largest gyms."
---
Do you want to get involved?
Click here to read more on the Take Back Cheer website.
UPDATE: We have been covering most major lawsuits against Varsity and others since this was filed. See all our previous (free) newsletters covering the lawsuits and investigations here.