This article is written by one of our content contributors. Want to become one? Click here to read more!
---
If you are active in following what's going on in the cheer world, you have probably heard about themed routines.
They have been around for a while but recently lots of teams decided to have a themed routine. Some were subtle and you may have not even noticed, but some were quite obvious, and some may say a little outrageous.
Examples of teams you may have seen themes from are
Top Gun TGLC, Top Gun OO5
Prodigy Allstars Midnight
KC Cheer Fierce 5
California Allstars SMOED
World Cup Allstars Shooting Stars
and more.
Some teams didn't go crazy and just had a theme to their music, like Fierce 5 with their Wizard of Oz theme, and Shooting Stars with Wonder Woman, although they did wear a headband.
But other teams (OO5, TGLC, etc.) had themed uniforms and music that some people were saying were too crazy and took away from the cheer aspect.
OO5 had a school-themed uniform, and the boys even wore backpacks. TGLC had karate themed uniforms which quite a few people disagreed with. Some teams, like Prodigy Allstars Midnight and Cali SMOED used props in their routine. Midnight used a broomstick, because they had a witch theme, while SMOED used flags for their race car theme.
---
What do you think? Should themed uniforms and props be allowed, or just music, or nothing at all? Comment your opinion below this article!
---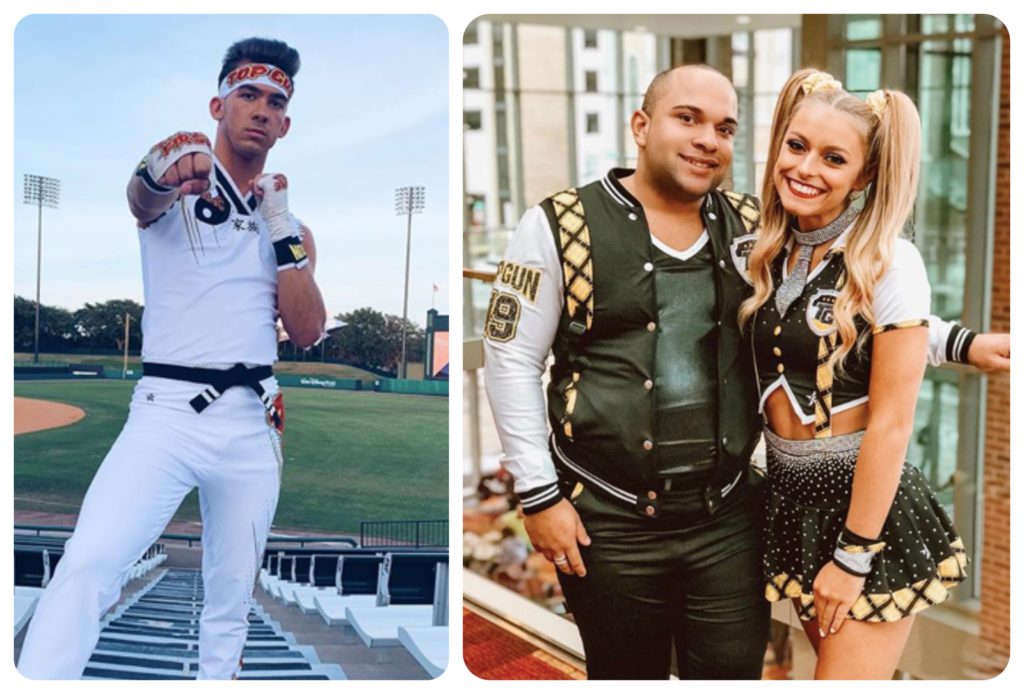 Top Gun TGLC and OO5 with their 2019 themed uniforms.
I personally like the themed uniforms for their creativity, but I do think they take away from the nice look of a cheerleading uniform. When I first saw some of the Top Gun themed uniforms, I will admit I thought they didn't look nice! But after a while, they grew on me and I think this is how it was for quite a few people as well.
Megan Scott from Cheer Extreme Code Black says that "I personally think that themes are really cool but they can be distracting!! Themed music is really interesting but I don't like themed uniforms because they take away from the performance."
When asked about doing different themed hairstyles, Scott says that "Themed hairstyles are also really good because they aren't the main focus of the routine."
Some believe that cheerleading should stay the same; poofed ponytails with bows, general uniforms & white shoes, but cheerleading is moving into modern times! Teams are doing different hairstyles with scrunchies, flowers, braids, and many love the idea of change.
On a poll on our Instagram story, one athlete replied saying, "I feel like it takes away from what cheerleading is really all about."