Jumps are a crucial part of cheerleading routines, whether you're just starting or a seasoned cheerleader.
In this quick guide, we'll explore the most common jumps, and have a look at how jumps are scored on the score sheet.
Note: Scoring can vary depending on the level, scoresheet, event producer, competition, etc. Always look up rules before competing.
Basic Jumps
While not as commonly featured in all-star cheerleading routines (especially higher levels), these basic jumps can serve as the building blocks for beginner cheerleaders.
These jumps teach the fundamentals of jumping techniques, proper arm positioning, timing, and safe landings.
Although you might not see them in every routine, they are important for developing a solid foundation for the more advanced jumps.
Types of Basic Jumps
T-Jump:
(May not count as a jump depending on the score sheet).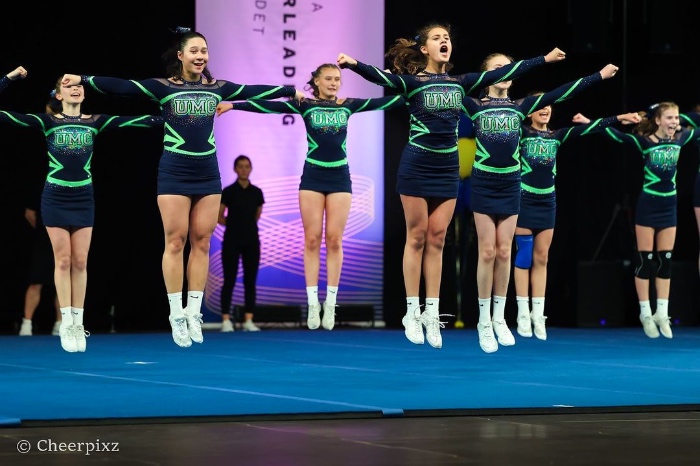 Spread Eagle: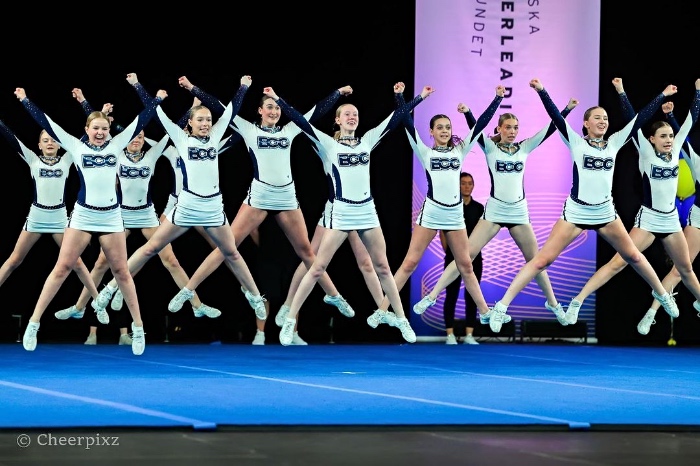 Tuck Jump: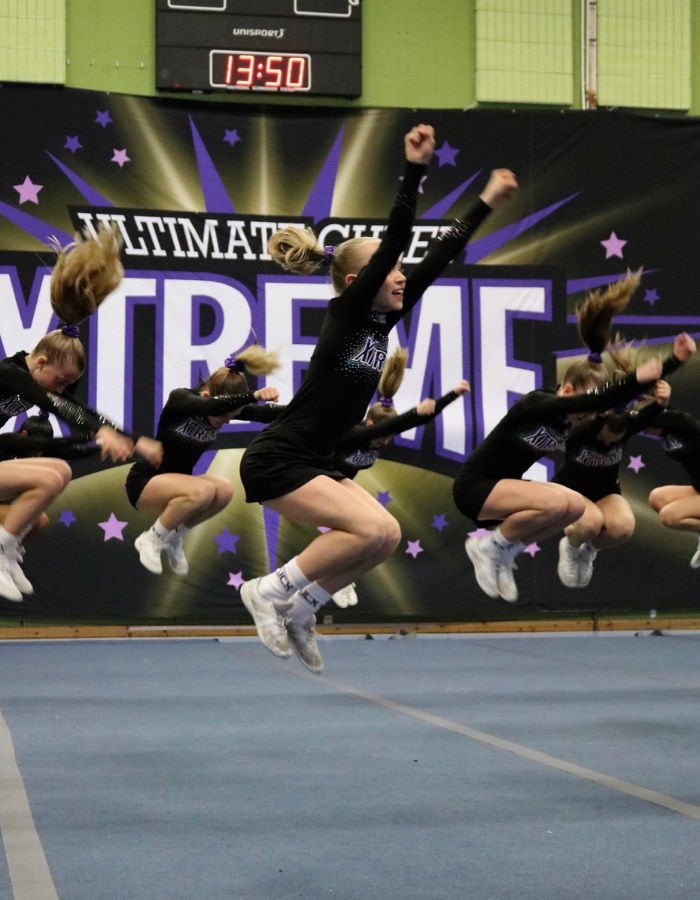 Advanced Jumps
Despite their "advanced" label, you'll find these jumps in nearly every all-star cheer routine.
These jumps demand more flexibility, precise technique, and body control. There are more things to remember and different techniques to learn compared to the basic jumps.
Types of Advanced Jumps
Pike: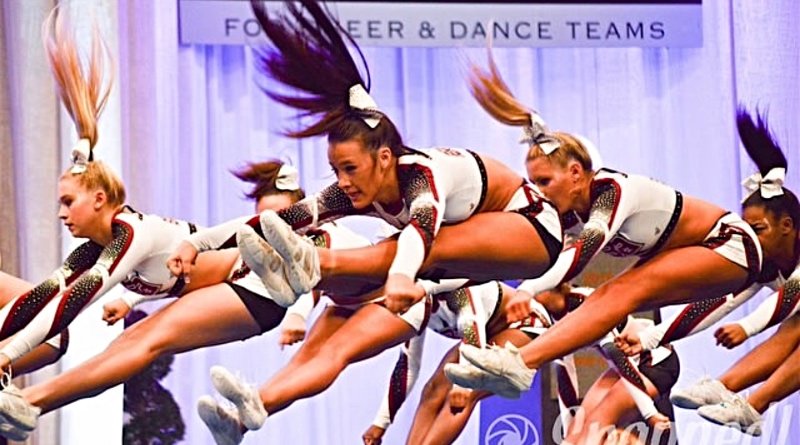 Hurdler (Left and Right):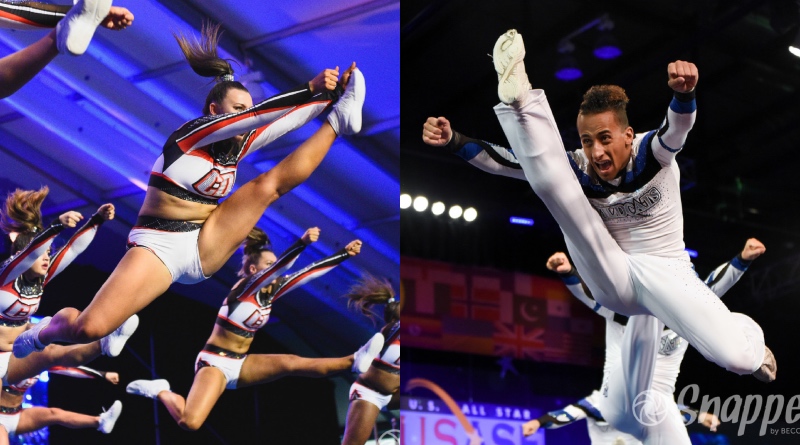 Toe Touch: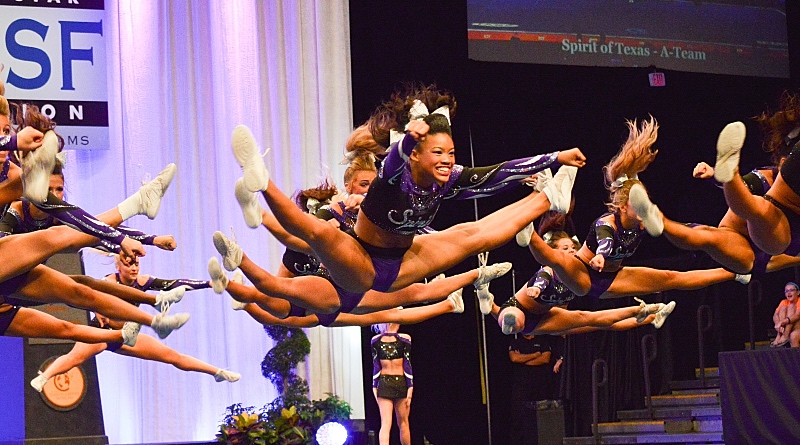 Jump Scoring & Combinations
In the United Scoring System's scoring rubric and score sheets, jumps are categorized under "Tumbling" and judged based on two key aspects: difficulty and execution.
(Keep in mind that there are exceptions, such as in the tiny novice division, where difficulty is not considered.)
Jumps are also a part of non-tumbling routines and score sheets, despite technically being listed as "tumbling".
Want to learn more about Non-Tumbling cheerleading? See our guide:
Combinations
In allstar cheerleading, jumps are usually performed in combinations to improve the team's score. The specific requirements can vary based on the team's division, age group, and skill level.
For instance, to score any points in the jumps category, "most" (the number varies depending on team size) of the team should perform at least one advanced jump.
To boost the score further, the team can do two advanced jumps that are connected (a quick landing/swing in between jumps).
For an even higher score, more athletes may need to perform three connected advanced jumps, or two connected jumps plus an additional jump.
To better understand this, let's have a look at the 2023-2024 United Scoring System Scoring Rubric:
Jump Difficulty Scoring (United Scoring System 2023-2024)
(May vary depending on level, division, etc.)
To score 1.0: "Most of the team performs 1 advanced jump."
To score 1.5: "Most of the team performs 2 connected advanced jumps. Must be synchronized and include a variety."
To score 2.0: "Maximum of the team performs 3 connected advanced jumps or 2 connected advanced jumps, plus 1 additional advanced jump. Must be synchronized and include a variety."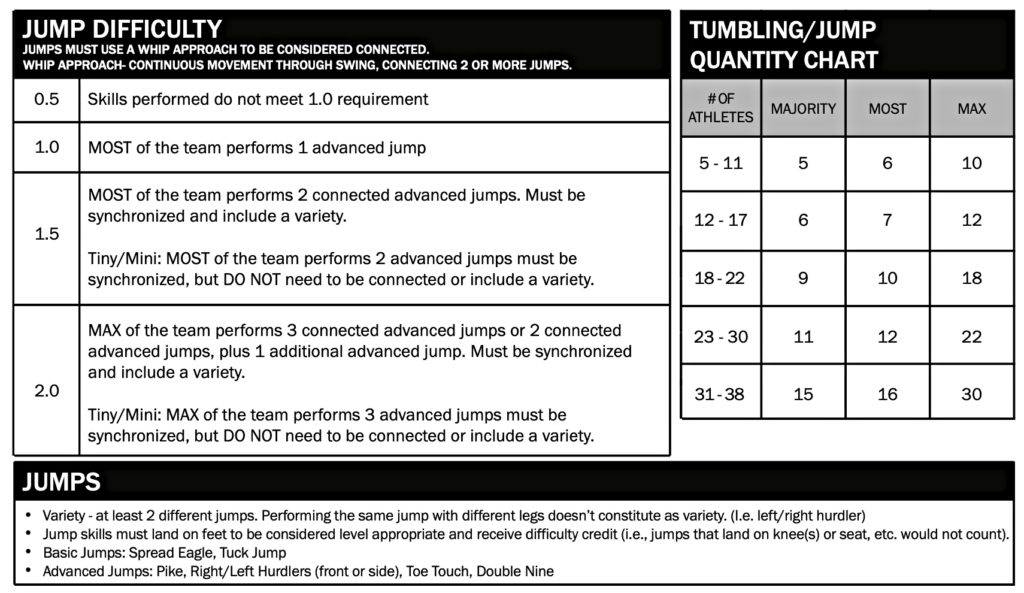 Remember that while difficulty is important, so is the execution, which we will dive into next!
---
Get updates on scoring changes, industry happenings & the latest news every week:
---
Key Factors in Scoring
Several other factors contribute to your jump scores. The following are listed on the 2023-2024 United Scoring System Scoring Rubric:
Arm Placement:
Approach
Consistent entry
Swing/prep
Arm position within jump(s)
Leg Placement:
Straight legs
Pointed toes
Hip placement/rotation/Hyperextension
Height
Legs/feet together
Chest placement
Landings
Synchronization:
---
We hope this helped you get a basic understanding of the most common cheerleading jumps!
Cheerleading is a sport with many other elements to explore. Find our other guides explaining the basics of competitions, skills & more by clicking here.
Disclaimer: The information provided here is not official and does not cover all rules and regulations. To determine what rules apply to your specific team and competition, research your competition provider and refer to the appropriate official rules.