This article was written by some of our content contributors. Do you want to become one? Read more about it here!
Do you have a cheerleading bucket list? Or do you want to have one, but have no idea what to put in it?
Use this list with 30+ bucket list ideas!
---
1. Do a uniform swap with someone on another team!
2. Hit the woah in your routine!!! (Iconic)
3. Have cheer rings on all fingers!
4. Have a themed routine. (Looking for theme ideas? We have 100 in this post!)
5. Have a best friend on another team.
6. Get a hit zero pin.
7. Have a huge Nike pro collection!
8. Meet your cheer idol.
9. Stunt in front of the Disney castle.
10. Get a Worlds ring sized!
11. Homecoming proposal cheer edition!
12. Get a good action shot.
13. Have a prop in your routine. (Here are 23 Routines With Different Types Of Props)
14. Be a center jumper or center dancer!
15. Go back to back at nationals!
16. Surprise uniform reveal!
17. Compete at ESPN Wide World of Sports.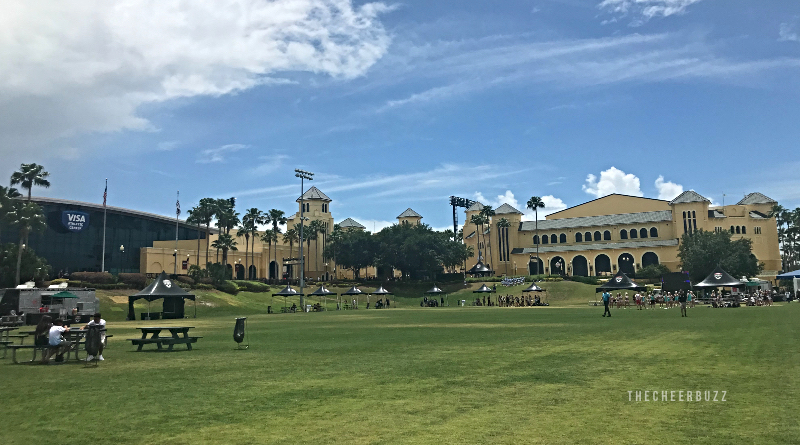 View from the food trucks at ESPN 😍
18. Be in a relationship with a cheerleader.
19. Go swimming in your cheer uniform!
20. Practice at the Disney All-Star Resort.
21. Have a team ring ceremony.
22. Take cheer pictures in the snow.
23. Get matching team slippers.
24. Have a custom made team cake!
25. Stunt at the beach.
26. Take polaroid competition pictures.
27. Make duct tape uniforms!
28. Have braids at a competition!
29. Replace your bows with scrunchies.
30. Go to camp Woodward over the summer!
31. Take a "flyer vs. base" picture.
32. Throw a standing tuck on the beach.
33. Win worlds with your best friend.
34. Have a team mascot!
Madison added even more ideas:
"I had more ideas, so here is Part 2!"
35. Globe at Worlds.
36. Be on an International team.
37. Be on a famous team.
38. Go to a famous gym.
39. Be on the same team as you cheer idol.
40. Cheer in High School.
41. Cheer in College.
42. Be on a Level 6 or 7 team and Collage team at the same time.
43. Win the Triple Crown!
44. Get someone into cheerleading.
45. Compete at The Majors.
46. Have a sister team.
47. Be on a Large division team.
How many of these things have you done already? ✅ What is on your bucket list?