Cheerleading music rights can be hard to understand and leave many questions. Our contributors from ClicknClear help you understand and solve the problem in this article!
---
You have probably seen UCLA gymnast Nia Dennis's winning 9.95 floor routine celebrating Black Excellence:
It's difficult to miss because of the deserved publicity, and this is helped in no small part by the use of top black music artists like Kendrick Lamar, Beyonce, Missy Elliot and Tupac in the mix.
There's no doubt that music and the sports that use music (like gymnastics, figure skating, dance, jump rope, and cheerleading) can elevate each other, and send a cultural message that's beyond the reach of either.
Nia's routine, and the reaction to it, is a fantastically executed example of this.
We've seen it before from another UCLA gymnast – in 2019 Katelyn Ohashi's perfect 10 floor routine went similarly viral, again helped by the use of music from Michael Jackson, Janet Jackson, and others:
Using music that resonates with athletes/performers, audiences and judges is a fantastic way to be successful in competition, and grow the interest and participation in the sport generally.
Wouldn't it be fantastic if cheer routine videos could get similar viral responses?
The Sony Music lawsuit and the introduction of music guidelines to (correctly) require licenses from the recording artist and each songwriter for each track used has resulted in cheerleading music that just doesn't have that connection with the audience.
The rights needed by the sport (from both recording artist and publishers, for each song) are: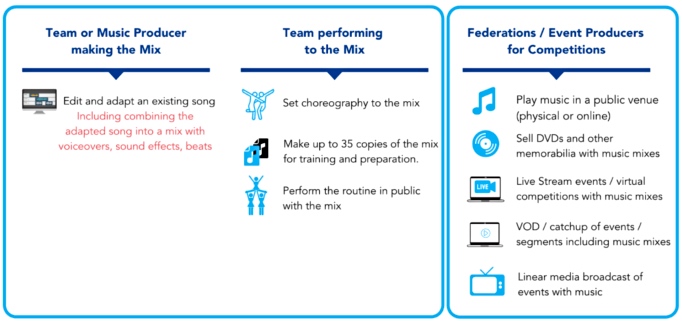 The time and expense required to get the licenses needed for these rights is beyond the capabilities of even the largest teams and event producers.
It requires going to each record label or music publisher, of all the many writers on a song – for every song used by every team…
There's an obvious question here: "How can gymnastics get away with this and cheer can't?"
The answer is that gymnastics (and all sports that use music in their routines) can't – they are subject to the same music copyright laws as cheerleading. So actually, they currently are literally "getting away with it".
But the routine videos have obviously been noticed by the music industry. The gymnastics governing bodies will also introduce music guidelines similar to cheer to reduce legal risk but also help promote their sport online with the use of legal music.
This is a problem that faces all sports that use music.
What's the solution? We've just described ClicknClear's mission in a nutshell;
We're here to be the solution to that problem – to let sportspeople who use music in their routines finally connect with the music industry, get the rights they need, and start connecting with audiences like Nia Dennis and Katelyn Ohashi have done.
All with the added knowledge that the recording artists and songwriters are being fairly rewarded for their work, too.
We've already signed hundreds of deals (580 at the latest count, many more on the way) giving us access to millions of music industry tracks and songwriting copyrights, with all the specialist rights needed, shown in the diagram above.
This means we can instantly license cheer teams, gymnasts, figure skaters, rope jumpers, and many others all over the world to use the original artist's music in their routines, and get that incredible reaction, using music you love.
We can also then license event producers, national, and international federations for the live-stream and video on demand rights they need to properly take their sports online with the music and drive higher levels of participation.
In that way, music and sport can truly elevate each other, at a higher level than just an individual routine!
---
This article was written by one of our content contributors. Do you want to become one? Read more & apply here.