DISCLAIMER: This post is not an encouragement to send any hateful messages to or about CheerUPDATES. We're sure a lesson has been learned from everyone involved and hope something similar won't happen again.
---
Today (Friday, April 24th) the USASF was going to announce their final decision regarding if Worlds was to be held this year or not.
However, the news about Worlds being canceled was already spreading on social media this morning, as the popular cheerleading news source "CheerUPDATES" announced USASF's decision before the organization itself.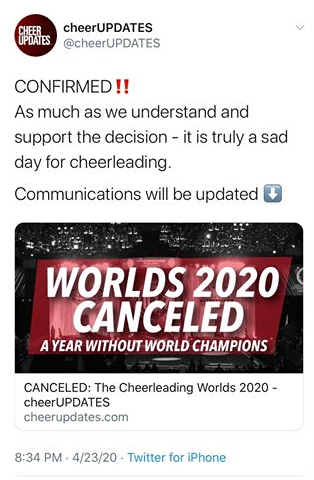 The USASF sent out an email to gym owners and coaches last night explaining their decision to cancel the competition. The email was sent to let the gyms know the decision before it was made public and specifically asked no one to share it.
People were instantly upset that the news was leaked online before the gym owners had a chance to tell their athletes and parents themselves.

This comment (we covered the full name due to respect of privacy) was posted on Facebook, explaining the decision to post the news: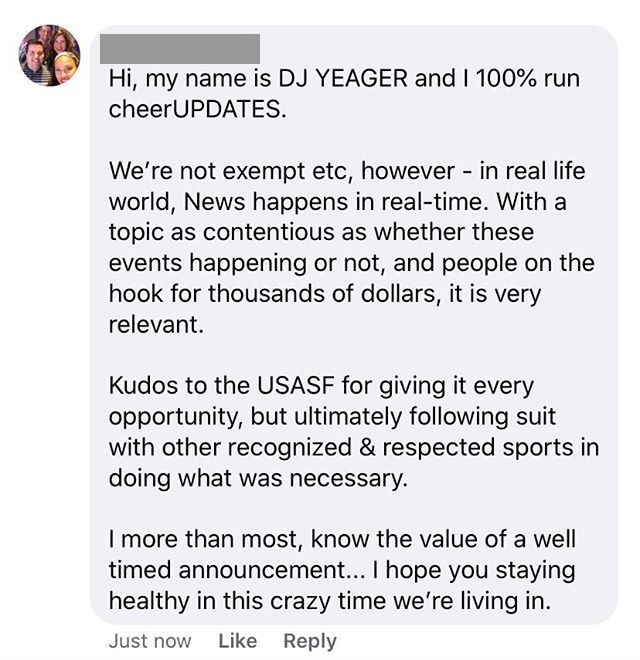 Basically, the motive was that news happens quickly and the cheer community deserves to know as fast as possible since families are paying a lot of money for the competition.
CheerUPDATES later deleted the original announcement tweet and posted an explanation/apology:
Many understand why it was posted since news like this would've spread quickly either way.
But many are still upset with how the whole situation went down.
It is what it is, and there isn't really anything to about it, BUT we still want to know what you think:
---
Make sure you never miss cheerleading news by signing up for our newsletter: